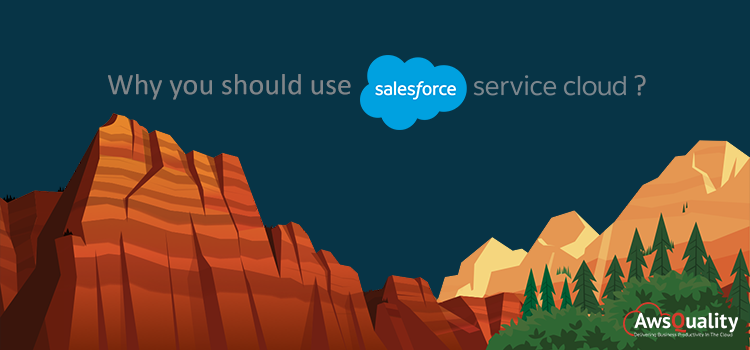 What is Service Cloud?  
Service Cloud is a Software as a Service Platform offered by Salesforce. It is built on the Salesforce Customer Success Platform that gives 360-degree view of customers and enables to deliver smarter, faster and more personalized service.
Here are some interesting insights on why should you select Service Cloud over any other support optimization platform.
Why it is important?
When your organization is concerned about providing optimized customer service to all of its clients then Salesforce Service Cloud is one of the best sources to do so whether it a B2B domain or B2C domain.
When customers raised many complaints/queries then Salesforce Service Cloud helps in keeping record of all these raised queries so that you can track them and subsequently replied to these queries efficiently.
Advantages of using it.
Fast resolve to customer issue: Since it supports live agent support service which helps in delivering instant solutions to their problems. Integration with Service Cloud will enable you to resolve the queries in best suitable optimized manner that further strengthen your relationship with customers.
Self-service features: It is incorporated with self-service features which provide extra edge to the users. By the use of this platform you can improve service response rates by deploying smart track technology systems that report the need for product maintenance or performance feedback automatically. It is linked to online community groups and discussion forums that enables customers to self-seek answers to their queries and enterprises can use these platforms effectively to promote self-service features, hence reduce support cost.
Better Security: The entire database within the Salesforce Service Cloud Platform is safe and highly secured because it has a various layered path for safeguarding the crucial business information.
Increased productivity: With the help of Salesforce service cloud, the agents will be able to work with an ease and from anywhere that increases their productivity to a great extent. Its easy management options like knowledge module helps customers as well as support and sales reps to seek answers to various product related queries hence it enhances their overall performance.
Interaction on social media platforms: Due to integrated setup with social media platform you can effectively interact with your customers over social media like Facebook, Twitter, etc. and make impact on them to use more of your products or services.
Why should you prefer to reliable source to implement it? 
Organizations should always prefer a reliable source means better firm who have trained, certified and industry Salesforce expert to implement the service cloud in a perfect and planned manner so that it helps organizations to achieve following tasks like…
Salesforce Knowledge transfer
Lightning Console
CTI Implementation
Call Center Management
Customer Communities
Live Agent
Wave Analytics
knowledge base Maintenance of customer self-service
Improved productivity
Automated phone support
Better integration with back-office applications
Know the customer preferences