Salesforce Managed Services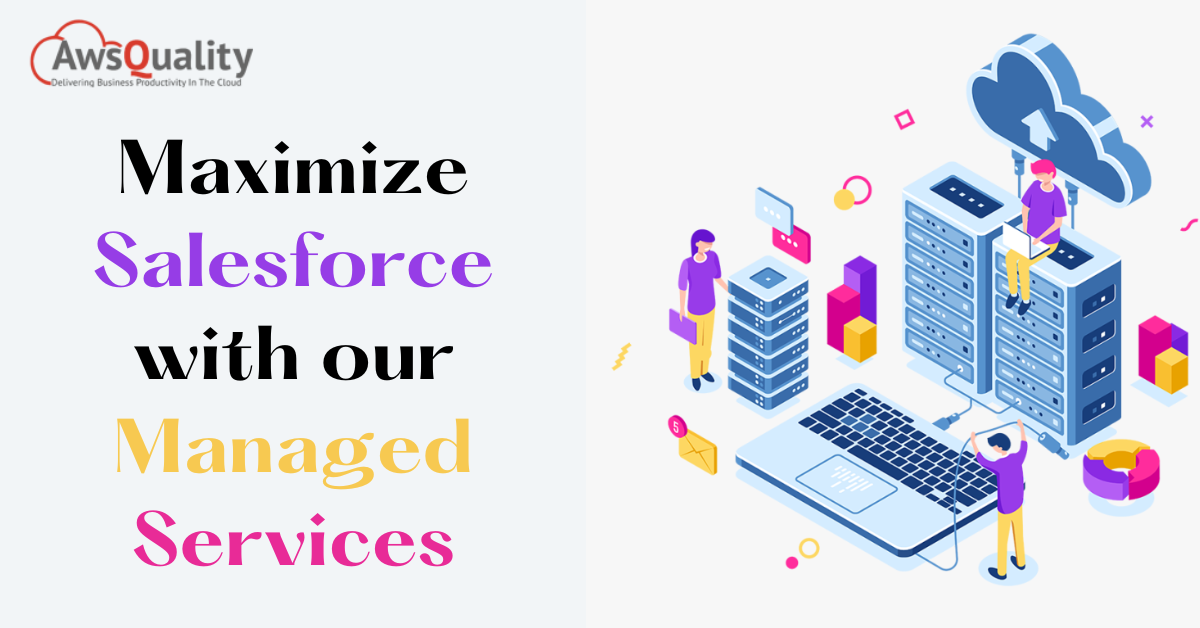 Salesforce Managed Services is a proactive strategy to assist businesses in effectively running and managing Salesforce CRM. Many organizations lack the resources or the depth of expertise necessary to regularly evaluate, improve, and modernize their CRM with new releases. Salesforce addresses this issue through managed services, which cover a wide range of tasks, from consulting to providing professional resources and block hours. It is intended to stop problems before they affect how businesses operate.
Why do businesses need Salesforce Managed Services?
Businesses need Salesforce Admin Managed Services for several reasons, including:
Salesforce Managed Service Provider businesses have access to a team of certified Salesforce experts with extensive knowledge and experience in managing and supporting Salesforce environments. This expertise is particularly important for businesses without dedicated Salesforce administrators or developers on staff.
Managed Salesforce Services offer a cost-effective solution for businesses that want to maximize their Salesforce investment without the high cost of hiring full-time staff. Managed services providers can offer flexible pricing options to fit a range of budgets.
With Salesforce Managed Service Partner, businesses can benefit from proactive support, including regular health checks, monitoring, and maintenance. This can help identify and address potential issues before they become major problems, leading to improved system stability and reduced downtime.
Managed Services providers can offer customized support plans tailored to each business's unique needs and goals. This includes offering support for specific Salesforce modules or features, such as Sales Cloud, Service Cloud, Marketing Cloud, or Community Cloud.
Salesforce Managed Services Expert can easily scale with business growth, ensuring businesses have the support they need to manage their Salesforce environments, even as they expand.
How are Salesforce Managed Services different from Salesforce Support?
Salesforce Managed Support Services are two different types of services offered by Salesforce and other third-party providers. While there may be some overlap between these two types of services, there are also significant differences in scope, depth, and level of service.
Salesforce Support is a reactive service that provides technical support to customers when they encounter issues or have questions about using Salesforce. Salesforce Support is typically provided by Salesforce itself and is included in the standard Salesforce subscription. Customers can submit support tickets online, by email, or by phone, and a support team will respond to these requests within a specified timeframe.
Contrarily, Salesforce Managed Service Providers is a proactive solution that continuously supports and maintains customers' Salesforce environments. The daily management and upkeep of the customer's Salesforce environment is the duty of managed services providers. This includes controlling user access, setting up and customizing Salesforce, keeping an eye on system performance, and fixing problems as they come up.
One key difference between Managed Services and Support is the level of customization and personalization that Managed Services provides. Managed Services providers work closely with customers to understand their unique needs and goals and create a tailored support plan specific to their environment. This level of customization is not typically available through Salesforce Support.
Another important difference is the level of expertise and depth of service. Managed Services providers typically have a team of certified Salesforce experts who can provide deep technical expertise in development, Lightning development, data migration, and integration with other systems. This level of expertise is not typically available through Salesforce Support.
Although Salesforce Support and Salesforce Managed Services may have a similar appearance, they are two different service types offering various support and service levels. While Salesforce Managed Services is a proactive service that offers continuous support and maintenance to help organizations maximize their Salesforce investment, Salesforce Support is a reactive service that addresses technical issues as they come up.
Benefits of Salesforce Managed Services
Access to Expertise
Businesses worldwide have noted how difficult it is to locate a qualified candidate who will meet the company's needs at an affordable rate. There is only one answer for these problems: Salesforce Managed Services. The services are adaptable enough to offer the appropriate resources at reasonable prices that will best satisfy the requirements.
Improved User Adoption
The system will be more vulnerable to significant security concerns without routine upgrades. Additionally, the system will struggle to function and frequently fail due to the frequent detection of the safety patches. Thankfully, Salesforce Managed services give businesses peace of mind regarding security upgrades. Every activity is completed automatically, and significant modifications are communicated right away. By doing this, the system and the implementation will continue to get updates from Salesforce.
Proactive Maintenance
Before this, managing businesses was always risky because most organizations lacked a clear understanding of how to handle crucial system procedures. Additionally, it is used to discourage the development of creative ideas to improve the viability of commercial opportunities. Salesforce safeguards technical investment with Manages Services by offering best practices to increase the effectiveness of the operation. In addition to resolving configuration-related concerns, it enhances the procedure by providing proactive suggestions for anticipating dire circumstances. Additionally, it indicates the goods that received more attention before distribution.
Scalability
When a company grows, its vision and objectives also alter to adapt to the market's demands. Organizations need not restart the employment hunt for a new post when using the Salesforce Managed Services Company package. They only need to update the contract with the current Salesforce Service operator for a simple maintenance procedure. Additionally, an effective professional staff guarantees the venture's expansion concurrently. High scalability enables them to modify their operations by requirements regularly. Similar to how an organization can tailor contract hours to meet specific needs and boost productivity.
Cost Savings
Every business needs to reduce costs to succeed in its industry. A corporation must invest money to hire a skilled Salesforce consultant. The cost increases when recruiting, retention, and onboarding expenses are included. Organizations may control their business costs using Salesforce Managed Services without worrying about additional costs associated with hiring, training, and employee retention.
Types of Salesforce Managed Services
Basic Managed Services
Businesses can get basic support and upkeep for their Salesforce system from Basic Managed Services for Salesforce. This includes user administration, security and access control, data management, basic system configuration and personalization, and bug fixes. Small to medium-sized enterprises without dedicated Salesforce administrators or developers on staff are the target audience for basic managed services, which third-party suppliers primarily offer. These services are adaptable and may be made to fit any company's particular requirements and financial constraints. Businesses may improve user experience, lessen downtime, and optimize their Salesforce infrastructure with basic managed services.
Customized Managed Services
The goal of customized managed services for Salesforce is to offer companies specialized upkeep and support for their particular Salesforce system. This covers solutions like sophisticated configuration and personalization, Salesforce system integration, Lightning and programming, data migration, and sophisticated reporting and analytics. Customized Managed Services are frequently offered by outside companies and are designed for companies with more complex Salesforce setups that need greater technical know-how.
These services can be highly customized to match any organization's unique requirements and objectives. Businesses can maximize their Salesforce investment and accomplish their strategic goals with customized managed services.
Full-Service Managed Services
Businesses may get complete support and upkeep for their whole Salesforce environment with the help of Full-Service Managed Services for Salesforce. This covers all Salesforce development, administration, and maintenance facets, from simple data security and user management to intricate system customization, integration, and optimization.
Full-Service Managed Services are typically provided by third-party providers. They are aimed at large enterprises with complex Salesforce environments and require high support and expertise. These services offer a complete end-to-end solution for Salesforce management and can help businesses optimize their Salesforce investment, improve system performance, reduce downtime, and achieve their business goals.
Key Considerations When Choosing a Salesforce Managed Services Provider
When choosing a Salesforce Managed Services Provider, there are several key considerations to keep in mind, including:
Industry Experience: Look for a provider with experience in your industry or similar businesses to ensure they deeply understand your unique needs and challenges.
Technical Expertise: Opt for a service provider that has a staff of qualified Salesforce specialists who have the technical know-how to maintain and optimize your Salesforce environment, including an understanding of Salesforce features like Sales Cloud, Service Cloud, Marketing Cloud, or Community Cloud.
Service Level Agreements (SLAs): Ensure that the provider offers clear SLAs outlining the level of service and support you can expect, including response times for issues, uptime guarantees, and other key metrics.
Cost and Pricing Models: Choose a service provider that offers flexible price alternatives, such as fixed-fee, hourly, or monthly retainer options, to meet your demands and budget.
Communication and Reporting: Pick a service provider that gives consistent reporting and communication on the state of your Salesforce environment, including performance measurements, problem-solving advice, and proactive optimization suggestions.
You may choose an Awsquality Salesforce Managed Services Provider who can help you maximize your Salesforce investment, minimize downtime, and accomplish your business objectives by considering these crucial considerations.
Challenges of Salesforce Managed Services
While Salesforce Managed Services can provide many benefits to businesses, there are also several challenges to consider:
Resistance to Change:
Implementing Salesforce Commerce Cloud Managed Services can sometimes face resistance from employees accustomed to working with the current Salesforce environment. Businesses must communicate the benefits of managed services and involve their employees in the transition process.
Finding the Right Provider:
Selecting a Salesforce Managed Services provider can be a challenging task, as businesses need to consider factors such as expertise, experience, cost, and compatibility with their business goals and culture.
Ensuring Data Security and Privacy:
Businesses need to ensure that their Salesforce Managed Services provider has robust security measures to protect their sensitive data, including user authentication, data encryption, and access control.
Maintaining Integration with Other Systems:
As Salesforce is often integrated with other business systems, it is important to ensure that the Managed Services provider can maintain these Salesforce Managed Services Integration and support other third-party tools and applications.
By being aware of these challenges, businesses can work with their Managed Services provider to address them proactively, ensuring that their Salesforce environment is optimized, secure, and delivering the expected value to their business.
What You Get with Our Salesforce Managed Services
Our Salesforce Managed Services Partner comprehensive support and maintenance for your Salesforce environment, including:
System Configuration and Customization:
Our team of certified Salesforce experts can help you configure and customize your Salesforce environment to meet your unique business needs, from user management to complex automation workflows and custom development.
Integration with Other Systems:
We can help you integrate your Salesforce environment with other business systems, such as marketing automation platforms, accounting software, and other third-party tools.
Data Management and Migration:
Our Managed Services provide data management and migration support, as well as continuing data maintenance, to help you maintain your Salesforce data clean, correct, and up to date.
Security and Access Control:
We ensure that your Salesforce environment is secure and your data is protected by implementing industry best practices for access control, data encryption, and user authentication.
Performance Optimization and Reporting:
Our staff can keep an eye on and improve the functionality of your Salesforce installation while regularly reporting on important data like user adoption, system uptime, and other performance indicators.
With AwsQuality Salesforce Managed Services Consulting, you can reduce downtime, improve system performance, optimize your Salesforce investment, and focus on your core business while we care for your Salesforce environment.