Hire Software Development Resources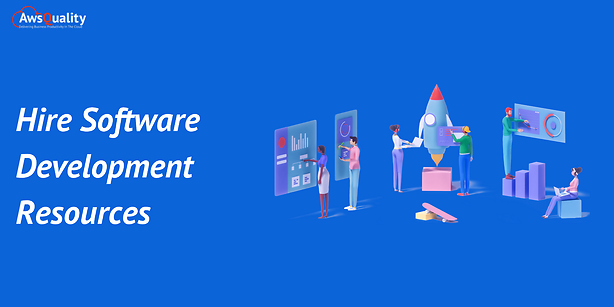 We, at AwsQuality, are dedicated to building reliable software solutions that help organizations across verticals gain a competitive edge in this cutthroat digital world. Any project we take on and any client partnership we forge is strengthened by us delivering on functionality, usability, and dependability. Our team of software development experts has spent decades excelling at their area of expertise, while constantly upgrading their knowledge of the latest tools and technologies. To sum it up, AwsQuality is your ideal software development partner.
When looking to scale your business operations or product offerings, hiring adequate resources can make or break your successful results. Whether you are looking for multi-department support or hire dedicated resources for a particular requirement or ongoing process, we have got you covered with a team of experienced and certified professionals from unique backgrounds for your customized needs.
Salesforce Developers
Our skilled Salesforce developers are equipped with the adequate experience and tools to deliver any product within the Salesforce org. Adept at Data modeling, management, and security, Platform development, Salesforce app customization, Visualforce, Search solutions, Developer console, Salesforce object query language, Apex object-oriented programming, and Lightning framework, our Salesforce developers can meet any requirements within the environment. To hire one of our experts or a team for Salesforce Consulting, Customization, Development, Integration, Maintenance, or any Salesforce Application development solutions, click here.
Mobile Application Developers
While you may find a pool of mobile application developers, the experts at AwsQaulity stand apart from the crowd. With years of experience and deep industry insights, our team of highly qualified mobile app developers excel at cross-platform app development, exceptional UI/UX abilities, sound knowledge of popular programming languages, experience in agile methodologies, and following cybersecurity guidelines to the T. To hire one of our experts or a team for iOS, Android, Hybrid, or Native mobile app development solutions, click here.
Back end Developers
Back-end applications are the backbone of successful software. AwsQuality takes pride in its experienced and dedicated team of back-end developers. Our experts have deep knowledge and experience in popular back-end programming languages and frameworks, can efficiently manage a hosting environment, database administration, scaling applications, and also have experience of version control. To hire one of our experts or a team who excels at back-end technologies such as Golang, Zend, Symfony, PHP, Python, Java, Angular, Drupal, or Node.js, click here.
Front end Developers
When looking for an exceptional digital front for your business and offerings, front-end services by AwsQuality can help you achieve your goals quicker and with result-driven solutions. Our team of front-end developers specializes in HTML/CSS and JAVASCRIPT/JQUERY languages and frameworks, version control, responsive designs, debugging automation tools, and command line. To hire one of our experts or a team who specializes in front-end technologies such as HTML5, CSS3, JavaScript, React, Redux, Angular, Node.js, Bootstrap, Polymer, click here.
Quality Analyst
Every project needs quality assurance to maintain its viability and performance. AwsQuality offers competitive Quality analysis and Software testing, powered by our dedicated team of experienced professionals, specializing in the process of bug tracking, ticketing, and testing, sound technical knowledge in software engineering and Systems Development Life Cycle, adept at DevOps and agile methodologies, and awareness of the latest web and mobile technology trends. To hire one of our experts or a team, click here.
Your dedicated resources are just a click away. For information about our services and solutions, fill out our contact form, and one of the experts will get in touch to address your queries. You can also call us at +1-571-250-7375