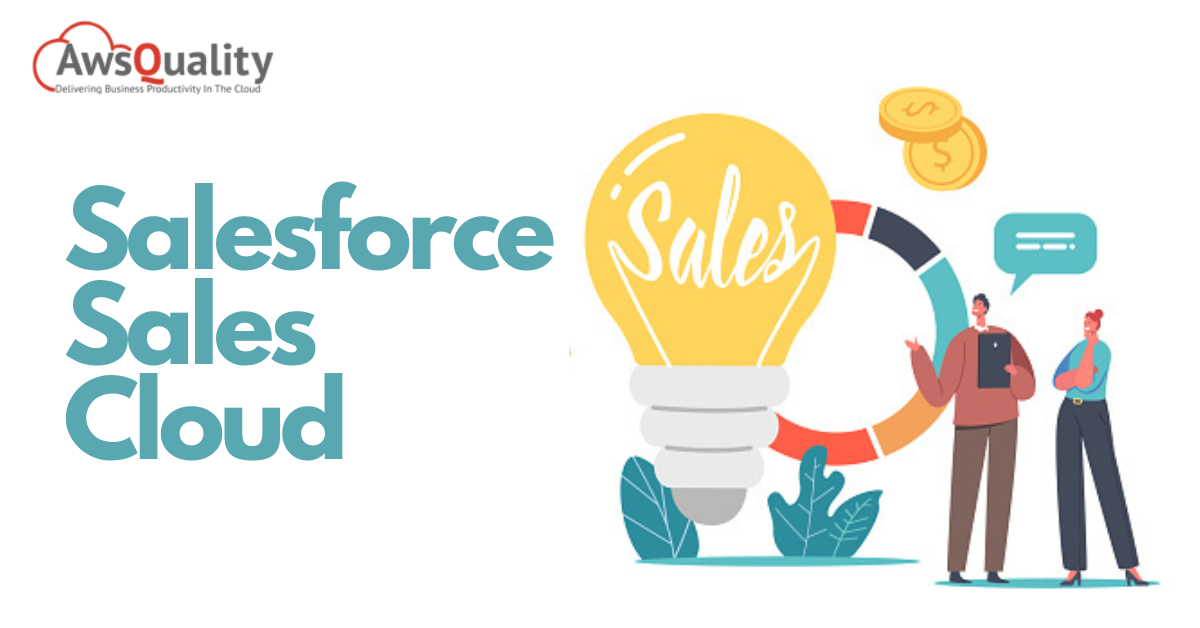 Salesforce Sales Cloud aims to streamline the sales process for both sales managers and representatives. Relevant Sales Cloud capabilities aid in developing an organized sales process, demonstrate how it is followed, offer comprehensive customer information, and sustain effective customer communication across various channels.
Salesforce Sales Cloud Overview
A specific Salesforce tool called Sales Cloud was created to assist businesses in selling more effectively and quickly by centralizing client data, tracking interactions, promoting teamwork, and automating various duties. It centralizes your customer and prospect information, enabling sales teams to work more efficiently.
Sales Cloud, based on the extensible and adaptable Salesforce 360° platform, enables companies to use legacy systems without having to "rip and replace."  In reality, many businesses use the Salesforce user interface to give users data from various back-end systems, boosting productivity and the overall user experience.
Why use Salesforce Sales Cloud, exactly?
By incorporating automated capabilities, Salesforce Sales Cloud CRM reduces time spent on administrative tasks and frees salespeople to concentrate on completing business! It provides your sales team with all the tools they need to turn leads into sales and then devoted customers.
As a business leader, you might get insights into your company immediately, enabling you to focus your efforts and make choices based on the most recent industry trends.
For reliable reporting, you can keep track of important consumer data and gain deeper customer insights.
Bringing Salesforce teams together will enable them to create a seamless customer experience and boost Salesforce productivity.
Create a sales plan sensitive to the market and would enable precise forecasting.
Through attentive marketing and sales cooperation, they manage client retention and enhance customer service.
Salesforce Sales Cloud Integration: Business Advantages
If you're seeking a dependable CRM system, look at Salesforce Sales Cloud. This is among the top business tools that Salesforce provides. It oversees all aspects of a company's sales department's operations.
You may handle leads, automate sales procedures, monitor progress, and carry out other sales tasks more quickly and effectively with the help of the Salesforce Sales Cloud.
Effective Teamwork
Salesforce Sales Cloud Services keeps your team organized and effective by providing tools for teams to engage, communicate, and exchange information.
It allows managers to impose restrictions on who can share contact information with certain organizational divisions.
Because of this, private information is continually safeguarded while remaining available to those who need it. And those authorized only will have access to any potentially sensitive information.
Improve Your Business Understanding
All users have access to reporting tools through Salesforce Sales Cloud, enhancing your capacity to comprehend your company's performance.
Managers create reports based on KPIs like revenue or the number of sales closed to identify the team's strengths and weaknesses. Employees are more likely to feel like they are part of a successful organization when they know how their actions affect success rates and metrics at the corporate level.
A team with a common vision will function more cohesively due to the close departmental integration.
Improve your Marketing Strategy
A dynamic, unified view of customer interactions or activities across both traditional and digital channels is made available to sales teams by Salesforce Sales Cloud.
It makes it simple to uncover up-sell and cross-sell chances based on past client purchasing trends or any other information that would help you to give the best possible customer care.
Additionally, it gives sales managers data about the effectiveness of their staff. Owners can monitor department operations, including marketing, customer service, and case management.
It ensures that you can monitor what other teams are doing to aid in deal closing.
CRM Options that Use the Cloud
Salesforce Sales Cloud was developed to facilitate contact collaboration, workflow organization, deal tracking, and task setting. Additionally, you may access it from anywhere to get the most recent information on the state of your company whenever you need it.
With the help of the Salesforce mobile app, you can access this information from anywhere. To successfully close deals, you can also use this app to access all data and workflows securely.
Ensuring leads are correctly passed between departments will further assist you in ensuring that consumers receive outstanding service from start to finish.
Businesses can access all of their client data from one platform and get in touch with their customers whenever necessary by integrating Salesforce Lightning with other well-liked cloud technologies.
Mobile App
Using the platform's mobile app, users can access the platform from a smartphone or tablet. To stay on top of essential information, you can use it to analyze your data, reports, or calendars in real-time.
Employee productivity increases when they have access to this information, which eventually raises income for your business.
Innovative CRM technology, improved sales productivity, and contact management are just a few mobile app features.
Additionally, it provides your team with access to personalized dashboards for project management, tracking company statistics, and providing real-time information on team activity.
Easy Business Collaboration
Salesforce Integration provides several well-liked options enabling you to upload files and documents directly to cloud storage, whether alone or with a team.
Employees will save time because they won't have to download data from one platform and upload it to another to share it.
This makes it possible for teams working under a tight deadline to bypass the laborious process of downloading, uploading, or sending each email one at a time.
Featured in Salesforce Sales Cloud
The following main functionalities are included in Salesforce Sales Cloud:
Automation Of Workflows For Approvals
You may automate routine process tasks and client endorsements using Salesforce Sales Cloud. You get immediate access to all kinds of endorsements, product details, discounts, and recommendations through the Chatter feed.
Data that Counts
Utilise Sales Cloud to manage pressing situations like unexpected data leakage. You can use highly effective Sales Cloud connections and pre-planned actions to avoid such a situation. Planning effective sales and online advertising strategies is aided by it as well. You can use the target files to create high-caliber advertising campaigns and establish marketing strategies specific to your demands.
Conversation
This clever technology can create a completely functional and well-optimized social media connectivity platform. It assists in creating a completely secure platform for the team to communicate about leads, projects, and work in progress. You may check the resources that are accessible, view the status updates of various activities, track productivity growth, and inform all collaborators of the discussed issues.
Forecasting Sales
Sales Forecasting tools in the Salesforce Sales cloud allow you to collect in-line editorial quirks. Based on your forecasts, you can customize the projection sections and get real-time multi-currency support.
Opportunities And Quotations
Discover the immediate highlights based on the most recent assignment modifications made by team members. Access the most recent bid prices, quote information, discussion of strategies, competition strategies, and more.
Statistics
The intelligent data produced by data analytics provides a clear picture of the issue, which also encourages better decision-making. Use the forum for group conversation to analyze the issues and generate insightful reports. This aids in examining unmistakable signs of your customer service, sales numbers, application performance, and third-party data. Discover the various analytics tools available, including those for creating tables, charts, fields, and groups.
Email Integration and Additional Marketing Tools
The routinely used email apps are integrated with this function without requiring you to switch to anything else. Regarding marketing tools, you may manage sales, establish advertising campaigns, and generate leads. Additionally, you can oversee and manage the results of the campaign investment.
Management of Contact
You can manage your relationships and communications with customers with the help of Salesforce Sales Cloud. Salesforce gives you access to vital information about your contacts and their activities with your business from a single interface. Customers' social data can help you better understand how they behave when using any good or service.
Additionally, Salesforce promotes cooperation within your company by allowing you to exchange knowledge and important documents with colleagues to build a knowledge-sharing workplace. Additionally, you may access all contact information to keep tabs on the status of negotiations.
Salesforce Sales Cloud Marketing Cloud Comparable?
Salesforce Sales Cloud And Marketing Cloud Integration are related because they are part of the Salesforce CRM package. Both are employed to monitor leads with the ultimate objective of turning them into clients. However, the solutions place varied emphasis on certain phases of the client's lifetime. Salesforce Sales Cloud is designed to close deals and generate income, whereas Salesforce Marketing Cloud is meant to find leads and direct them toward your product or service.
What Distinguishes the Sales Cloud from the Service Cloud?
The "Sales Cloud" refers to the salesforce.com "sales" module. It comprises campaigns (within restrictions), Leads, Accounts, Contacts, Contracts, Opportunities, Products, Price books, and Quotes. It has capabilities like Web-to-lead and auto-response rules to facilitate online lead capture. You use this to generate income because it is made to be a start-to-finish arrangement for the entire sales process.
The term "Service Cloud" refers to the salesforce.com "service" (as in "customer service") module. It contains Cases, Accounts, Contacts, and Solutions. The additional capabilities include the Public Knowledge Base, Web-to-case, Call Centre, Self-Service Portal, and customer service automation (such as escalation and assignment rules). It is designed to make it possible for you to respond to past, present, and future customers' requests for assistance with a product, service, billing, etc. You use this to make people happier.
Each "edition" (professional, "enterprise," and "unlimited") shares the same distinctions between Salesforce Sales Cloud Service Cloud, which were primarily mentioned before. As you can see from the preceding paragraphs, the differences are that each cloud is built to offer a particular set of characteristics that you would use to market and support various Salesforce Sales Cloud And Service Cloud products.
How can AwsQuality assist?
From the ground up, AwsQuality assists you in setting up and managing your Salesforce cloud. All of the Salesforce Clouds, including the Salesforce Sales Cloud, have Certified Consultants on the AwsQuality team. We help both new and current clients use the platform more extensively. Salesforce implementations are carried out by AwsQuality using a creative methodology. Projects are finished on schedule and budget.