Salesforce Integration Company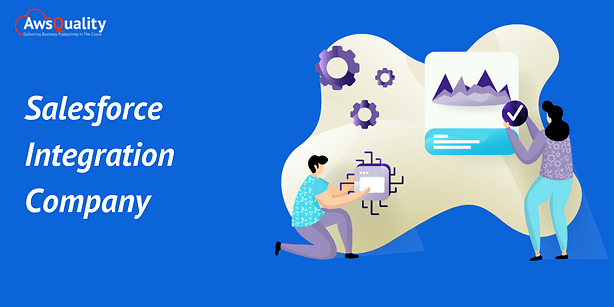 A Salesforce integration partner you can always count on.
AwsQuality, one of the best Salesforce integration services provider companies, knows that with the rapid evolution of cloud and mobile platforms businesses can feel restricted because of the isolated platforms. All these platforms own their individual characteristics and roles and it is very difficult to maintain them individually and getting the most out of them in an organizational environment.
Highly experienced Salesforce integration consultants of AwsQuality help you identify your variant of the user-friendly, highly interoperable and instinctively designed Salesforce integration solution and Salesforce integration testing. The Salesforce services that we offer are versatile and can be incorporated across any kind of application which includes SAP, Oracle, Microsoft, Adobe, and many more, while also being light to your pockets.
Our Salesforce Integration Services
Our Salesforce integration services help to create a more engaging customer experience by the integration of third-party data. To build a consolidated view, diverse systems including the data from distinct systems like Supply Chain, HR, external ERP, or on-premises software like Microsoft, Oracle, SAP, can be unified with the Salesforce third-party integration platform.
Salesforce 3rd Party Integration with Custom Adapter:

Salesforce integration developers of AwsQuality build customized integration solutions that allow businesses Salesforce 3rd Party integration through extremely adaptable and scalable Force.com hosted applications. AwsQuality also develops Salesforce AppExchange® integration applications for Software merchants and other businesses.

Salesforce 3rd Party Integration with Web Services:

Our expert Salesforce integration services can help your business to combine various solutions with web services based on Force.com and Salesforce Visualforce. We are experts in real-time integration between web apps and Salesforce through Salesforce APIs and Web services.

Direct Integration Via APIs:

The Salesforce platform provides assistance with both SOAP-based APIs and Rest APIs. AwsQuality supports businesses to integrate their web apps and solutions with Salesforce via APIs.
As one of the leading Salesforce integration partners, our Salesforce integration consultants specialize in all the main APIs and we understand Salesforce API-based integrations to their core.

Salesforce Integration Through MuleSoft:

Salesforce has indeed transformed sales management lifecycle and customer engagement practices, still, Salesforce has not mastered all the customer data processes. And to ease this difficulty MuleSoft comes to the rescue. MuleSoft is used to facilitate the process of uniting data, devices, and applications of any organization.
MuleSoft experts of AwsQuality deliver robust solutions around MuleSoft Salesforce integration for clients around the world.
Our Salesforce Integration Services for Large Organizations
AwsQuality, being one of the best Salesforce integration partners, aids a continuous flow of data between clouds and premises by providing extensive integration services of strategizing, developing and managing this exchange of data.
Manifold Integrations:

Being an experienced Salesforce integration partner, AwsQuality has specialized in building custom integration adapters that can serve as an integration bus that allows you to integrate various solutions with Salesforce®.

Mobile Integration with Salesforce:

We will help your organization to become completely mobile-savvy by integrating mobile solutions with Salesforce for you.

AppExchange App Integration:

We at AwsQuality, are experts in building AppExchange apps that are compatible with Salesforce CRM for Software development companies.
Why Choose AwsQuality for Your Salesforce Third-Party Integration Need?
Premium Quality is Our USP:

Quality over quantity is AwsQuality's motto. We are a Registered Salesforce Appexchange Partner and Salesforce ISV Partner you can expect the best services from our Salesforce integration consultants.

Best in Our Domain:

We have developed over 200 projects for our 125+ customers from all over the world. We are one of the best Salesforce integration partners for your dream project.

Adaptability and Scalability:

AwsQuality's working methods are extremely flexible and fully scalable. We are always willing to improvise our techniques according to our client's needs. We can create everything that your business needs.

Complete Confidentiality:

We promise absolute confidentiality to our customers. Every detail of your project is safe in our hands.
We have provided our Salesforce integration services to our clients in the following 3rd party software:
| | | |
| --- | --- | --- |
| SAP | Oracle | Zendesk |
| Box.com | Google Maps | Twilio |
| QuickBooks | Mailchimp | PHP/MySQL |
| E-Com | Marketo | Pardot |
| Hubspot | Kaplan | Many more... |