Force.com Development Company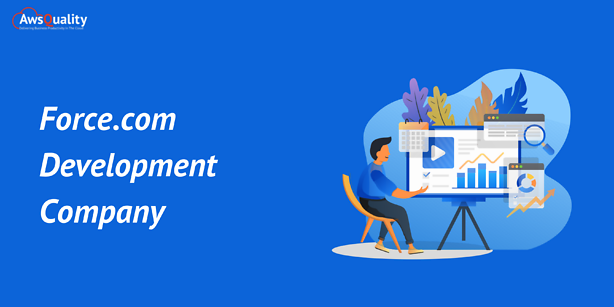 Making most out of the extremely reliable and robust cloud computing platform.
A platform as a service introduced by Salesforce, Force.com is an impeccable development and operating platform on the cloud. Force.com development framework allows programmers, administrators, and enterprises to develop and deploy apps with the integrated development environment to push them to the live quicker. Force.com can be implemented to the database, codebase, and the ground infrastructure of the whole Salesforce solutions.
Force.com is essential if you want to extract the most out of your Salesforce CRM and the skilled experts of AwsQuality can surely help you with that.
Force.com Leveraging Lightning
Amplify the Power of Lightning to Develop and Deploy Scalable Applications.
Advantages of Force.com Development
Lightning Form builder

Force.com utilizes numerous form builder tools like drag and drop and others to simplify the process of application development and deployment.

Minimum Code

Force.com application development requires minimum code and delivers faster results.

Absolute Security

Force.com development comes with quite an adaptable and strong security structure.

Smartphone Compatibility

Force.com based applications can operate on all smartphones including iPhone and iPads, which make it smartphone compatible.
Our Force.com Development Strategy
Discovery Phase

AwsQuality's certified force.com developers will help you to make the right choices while envisioning your project. We understand that every project is different, that's why we collaborate with our clients during the Discovery Stage of the project to evaluate your existing technology, CRM culture, and use cases. AwsQuality's expert Salesforce consultants will conduct a requirement analysis report of the product features in the discovery phase to shape the image of the final outcome of your project.

Prototyping on Force.com

AwsQuality is a renowned force.com development company, famous for its agile and experienced force.com application development services. After completing the discovery phase our team of UI designers and force.com consultants will build a quick interactive prototype of your project.

Development & Testing

AWSQuality's proficient team of Force.com developers never misses an opportunity to innovate. We understand the businesses inside-out and find the most beneficial ways to simplify and automate even the most complicated business models.
Our Agile development model guarantees a high standard and well-defined development and testing procedure integrating the power of lightning into your Force.com project.

Launching and Go-Live Support

We believe that it is essential to focus on the supervision of dependencies and environments during the go-live period of a product. Our post-deployment quality assurance procedure guarantees a smooth Go-Live.
Why Choose Us as Your Force.com Development and Consulting Partner
Quality

Quality over quantity is something we believe. We are Salesforce Registered ISV Partner and Salesforce Appexchange Partner, you can expect the best development quality from our skilled Force.com developers.

Experience

AwsQuality has completed 200+ projects for over 125 clients across the globe. Our experience reflects in our working process.

Flexibility

We are always ready to improvise to deliver a better result. We will build your dream project just the way you want it to be built.

Confidentiality

AwsQuality guarantees complete confidentiality to our clients. Your project secrets are safe with us.