Force.com Development Company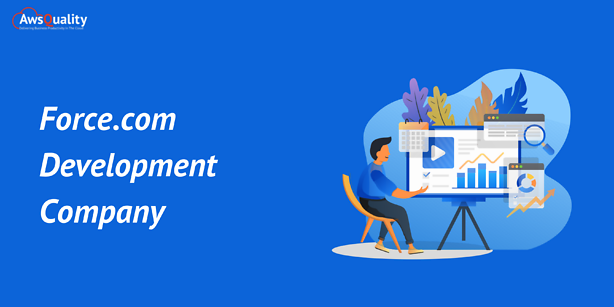 Making the most out of the extremely reliable and robust cloud computing platform.
Force.com is the Salesforce Platform-as-a-Service. It is a whole operating and development platform that is cloud-based. The development framework enables administrators, programmers, and business users to create and deploy applications through the Integrated Development Environment quickly. The Force.com platform, the collective name for the Sales Force Developer Edition solution, comprises the infrastructure, database, and programming. It is a robust, scalable, and secure cloud computing platform that gives users a seamless, instantaneous application development, packaging, and deployment experience.
We can assist you in creating and deploying that is dependable and scalable using the Salesforce Lightning platform. Additionally, we can help you automate your procedures, integrate with a third-party application, provide a mobile experience, and more.
Force.Com Testing Service offers a secure architecture, is highly scalable, agile, and packed with power. In addition to these advantages, it provides smooth integration with different technologies.
AwsQuality has used Force.com since its first launch and has a multi-domain Force.com. We will drastically lower your Time-to-Market, development, and support costs as development experience becomes our development partner. Your programs can be enhanced to a higher standard and made more feature-rich and optimized. Force.com development and bespoke application development may create systems with improved performance, reporting, and adaptability. The ability to build powerful Visual Force pages, triggers, views, page layouts, and workflows is a hallmark of Custom Force.com. We offer secure Force.com development services that nevertheless offer the required flexibility. According to your requirements, we may construct a Custom Force.com mobile app.
AwsQuality agile and disciplined strategy, centred on requirements discovery phases and extremely expedited delivery schedules, make it cost-effective. On the Force.com platform, AwsQuality has a wealth of experience helping you reinvent your outdated systems. AwsQuality offers Salesforce Force.com Developer services to help you get the most out of all your Salesforce investments.
The first of its type, Force.Com Functional Testing is a Salesforce PaaS (Platform as a Service) offering a full-featured cloud development platform. Thanks to it, developers may create and launch any business application on the cloud. We help enterprises to deploy apps through an Integrated Development Environment and envision possibilities beyond the out-of-the-box CRM as a Salesforce Gold partner and a top Force.com Development Company. We transformed concepts into data-centric applications because of our demonstrated competence in multi-tenant data architecture, web services API, Apex programming, Visualforce, and Salesforce1.
For in-house, quicker, and more affordable Salesforce Force.com Development Services, our Force.com application development practice has a pool of skilled Force.com developers, solution architects, and UX & UI designers. We create enterprise-class solutions that operate on the industry-leading Salesforce.com infrastructure and seamlessly integrate into the Salesforce cloud, whether your objective is to expand the capabilities of core CRM, deploy custom applications for your business, or sell AppExchange products to your users.
Our Offerings on Force.com
Consult Force.com
Concept analysis, solution stipulation, architectural design, platform and integration compatibility study, development of MVPs and PoCs, evaluation of the market, and competition research.
Development of Force.com App
Design and implementation of Force.Com Code Review business solutions, including Salesforce sites and portals built with Visualforce, Apex, and Apex
Customizing the Force.com App
Visualforce proficiency is required to design a customized user interface for the Salesforce program. Our team can assist you in achieving your objectives, whether you want a truly authentic experience or something new.
Design of Force.com's UI/UX
Plan and designed for Force.com applications' user-friendly interface. We have a hardworking group of UI/UX designers and developers who have years of combined expertise.
Integrations with Force.com
Knowledge of integrating Force.com applications with other applications, databases, technologies, SaaS platforms, and corporate systems like ERP.
Support for Force.com apps
The help desk management, user training, live assistance, SLA-based maintenance, and devoted on- and off-site Force.com developers.
We are maximizing the capabilities of the incredibly dependable and robust cloud computing platform.
Force.com is a flawless cloud-based operating and development platform that Salesforce offers as a platform as a service. Programmers, administrators, and businesses may create and deploy apps using the integrated development environment of the Force.com development framework, allowing them to go live more quickly. The database, codebase, and foundational infrastructure of the entire Salesforce solutions may be deployed with Force.com.
The trained professionals at AwsQuality can undoubtedly assist you with Force.com if you want to get the most out of your Salesforce CRM.
Force.com Making Use of Lightning
Enhance Lightning's Power to Create and Implement Scalable Applications.
Force.com Development Benefits
Builder of Lightning Forms
Force.com extensively uses drag-and-drop and other form-builder tools to streamline the creation and deployment of applications.
Lowest Code
Force.com Cloud Applications development uses the least amount of code possible and produces quicker outcomes.
Complete Safety
The Force.com development includes a robust and customizable security framework.
Mobile Device Compatibility
Applications built on Force.com are smartphone compatible because they run on all devices, including iPhone and iPad models.
Our Development Strategy for Force.com
Discovering Stage
AwsQuality's certified force.com developers will guide you in making the best decisions when planning your project. Since we know every project is unique, we work closely with our clients to assess your current technology, CRM culture, and use cases throughout the project's discovery phase. To help you envision the final result of your project, AwsQuality's skilled Salesforce consultants will conduct a requirement analysis report of the product features during the discovery phase.
using Force.com to prototype
The renowned force.com development business AwsQuality is well known for its skilled and agile force.com application development services. Our team of force.com experts and UI designers will create a rapid interactive prototype of your project after the exploration process is finished.
Construction and testing
The skilled Force.com Application Development at AWSQuality always takes advantage of every opportunity to innovate. We know how firms operate on every level, so we can identify the best solutions to streamline and automate even the most intricate business models.
With the integration of lightning into your Force.com project, our Agile development strategy ensures a high standard and clearly defined testing and development process.
Launching and Support for Go-Live
During a product's go-live period, it is crucial to concentrate on the supervision of dependencies and surroundings. Our post-deployment quality assurance approach ensures a smooth Go-Live.
Why Pick Us as Your Force.com Consulting and Development Partner?
Quality
We advocate for quality above quantity. Since we are a Salesforce Registered ISV Partner and an AppExchange Partner, you can depend on our team's highest level of Force.com development quality.
Experience
Over 200 projects have been completed by AwsQuality for more than 125 clients worldwide. Our working method reflects our experience.
Flexibility
We are constantly prepared to improvise to provide a better outcome. Your dream project will be constructed just as you envision.
Confidentiality
AwsQuality offers its customers a complete confidentiality guarantee. The details of your project remain secure with us.
FAQ's
Force.com is a Platform as a Service platform that aims to make the development and deployment of cloud-based apps and websites easier. Developers may use the cloud IDE to quickly build apps and websites that can be deployed to Force.com's multi-tenant servers.
Salesforce is a firm, and salesforce.com is a customer relationship management (CRM) solution built on Software as a Service technology (SaaS). force.com is a platform that enables developers and business users to create robust corporate Applications.
It enables you to add and remove items, fields, and relationships between objects, among other things, using a drag-and-drop interface rather than the Salesforce setup windows.
Salesforce is a low-code or no-code application development platform. You do not need a coding background to become a Salesforce Developer. This makes it an ideal career choice for you if you want to start your IT career with no prior coding expertise.
The primary distinction between communities and sites is that communities allow you to use predefined templates, branding styles, change pages, and so on. Sites were created to bring programmable logic, processes, and Visualforce features to bespoke pages and Web applications.