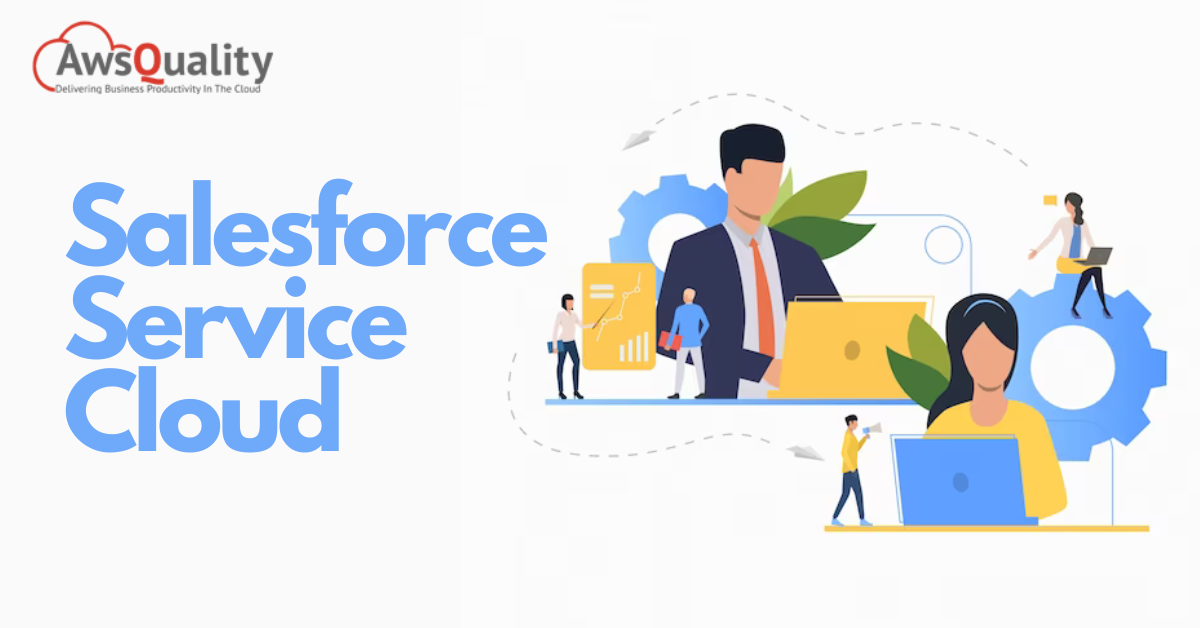 It has become crucial to match client expectations through multiple digital channels due to the rapidly evolving technology. The driving force behind any successful firm is helping clients to their liking because their needs and expectations continuously change.
Salesforce Customer Service departments commonly need help with the organization of contact history data, uneven operational methods, and slow response times to contractor inquiries. The outcome is an unnecessarily drawn-out process that frustrates both clients and consultants.
As a result, companies instantly shifted to technologies like Salesforce Service Cloud, which was developed to assist customers in getting what they enjoy and desire, leading to higher customer satisfaction.
The Salesforce Service Cloud has made a name for itself as one of the best customer care options thanks to its ability to offer quick, informed, and individualized assistance in response to the increasing demand.
Salesforce Service Cloud Implementation would enable you to get excellent CRM support.
Deep consumer knowledge assists companies in enhancing the caliber of their internal and external offerings, ultimately increasing business efficiency.
We'll now explain how Salesforce Service Cloud will benefit your company so you can make an informed decision. What is the purpose of the Salesforce Service Cloud, why is it necessary, and what services does it provide to engage customers?
Describe Salesforce Service Cloud
The world's best customer support platform for managing client information is Salesforce Service Cloud; it is excellent, powerful, and unrivaled. It is a comprehensive solution for companies aiming to increase case resolution success rates and customer service effectiveness.
The Salesforce Service Cloud, accessed from any device, was developed utilizing the SaaS (Software as a Service) paradigm to improve the agent user experience. It enhances an organization's service operations through in-app live agent assistance, knowledge centers, self-service communities, and social media.
Salesforce Service Cloud Consultant provides tools for getting to know, comprehending, and quickly resolving customer difficulties. You can support several widely used client contact channels, such as Facebook Messenger, chat, phone calls, and emails.
Managing numerous requests that arrive through various routes can be challenging. Salesforce offers a feature for distributing requests called Omni-Channel that simplifies resolving problems.
To bridge the distance between you and your customers, this tool assists in promoting your current clients. It includes an assistance console, customer self-help portals, automation, and comprehensive dashboards with quick access to crucial analytics.
It also gives the agents the tools to help consumers with their difficulties while providing individualized care. It's a customer service system that allows companies to manage all client information and service interactions centrally.
Top Characteristics of Salesforce Service Cloud
Numerous services and functionalities are offered by the Salesforce Service Cloud, some of which may change from one Salesforce edition to another.
The whole feature set is included with the Enterprise and Performance Editions. To better comprehend Service Cloud's exceptional features and functions, here is a summary of its key qualities.
1)    Omni-Channel
Businesses may connect with their clients across a range of media using this omnichannel feature.
Thanks to omnichannel, businesses can designate the proper person to handle problems that arrive through any channel.
You get access to every channel, including video chats, community websites, social networking sites like Twitter, Facebook, and Instagram, phone, email, and online live agent discussions.
2) Management of Cases
The Service Cloud's case management module includes creation, prioritization, assignment, escalation, reassignment, and closure.
Customer complaints should be investigated and handled as soon as possible. These records of consumer complaints are referred to as Cases in Salesforce.
Organizations can swiftly log, investigate, and deal with customer concerns using the Case Management application. Salesforce has also provided various assignment and escalation mechanisms to address these issues.
3) Lighting Control Panel
Service Console provides a unified experience that aids in boosting agent efficiency by centralizing all crucial customer data. It provides an in-depth look at each case on a single screen and shows the case's past and present state.
Agents also have access to client and account information, making it easier to find the relevant details in case data and engage with consumers efficiently.
4) Information Base
Your access to the Service Cloud's extensive knowledge base makes it feasible for enterprises to reply to client inquiries with the most pertinent information. The knowledge base feature is an online library for excellent customer care and assistance. This aids agents in resolving issues fast.
5. Automation of routine processes
When a customer is extremely dissatisfied with the customer support provided by a service person, the process and regular automation indicate that an urgent customer incentive is required.
The service cloud simplifies process automation using technologies like workflows, macros, email templates, approvals, and other resources. The time agents and managers save by employing this automated technique benefits them.
6) Call Centre or CTI Integration
Using the computer-telephony integration (CTI) method, Salesforce Service Cloud Integration enables the connection of a third-party telephony system with Salesforce to create the best call center in the sector.
Because of the AI insights on an intuitive interface, your salespeople will have a better experience with contact center management solutions, and managers will have better visibility across all channels.
7) Self-Service Neighbourhoods
Salesforce Service Cloud Services can be used to develop self-service communities. They can serve as a knowledge resource for customers, enabling them to handle problems independently whenever and wherever they are.
Additionally, you may provide the community access to a chat function to make it even simpler for consumers to ask agents for assistance if they encounter any difficulties. This enables you to use chatbots and automation to offer a customized customer experience.
Salesforce Service Cloud's advantages
The best customer service solution currently available for enterprises of all sizes, Service Cloud delivers revolutionary customer service methods. The following is a list of some of the main benefits of using the Salesforce Service Cloud:
1) Protection of customer data
The Service Cloud makes all customer interaction and other data safe and secure. To safeguard sensitive information, it employs a multilayer method.
Salesforce Financial Service Cloud capabilities include case management, customer access through all channels, pre-built integration apps, knowledge bases, routing and escalation, and queue management.
Additionally, this targeted management strategy reduces the need to search among disconnected systems to find solutions to your issues.
2) Increases the agent's output
With Salesforce Service Cloud, agents can work confidently from any place and on any device, including mobile or web-based ones, increasing productivity.
This raises an agent's output and guarantees that customer inquiries are responded to within the allotted time, reducing the overhead expenses related to each employee.
3) Outstanding Customer Service
The customer experience and your relationship with each customer can be enhanced because you can easily connect every customer with one of your live employees.
To improve the customer experience, businesses can offer one-on-one, real-time communication between the consumer and the agent. It also leads to higher levels of client satisfaction, loyalty, and retention.
4) Several ways to reach you
Use the methods of communication that the consumer prefers, such as online chat, email, phone, and social media. Doing this resolves all issues, and customer communication is made easier.
You may take advantage of Live messages with the Service Cloud Salesforce, which enables you to contact clients via their preferred channel, SMS (text message) or Facebook Messenger.
5) Top-notch customer service
Users shouldn't be shocked that Service Cloud is one of Salesforce's top products, given that the company is the market leader in CRM technology.
Service Cloud is referred to as "best" for several reasons, including its capacity to assist organizations in streamlining their operations and calls, reduce the time needed to resolve issues, and greatly raise customer happiness. It promotes and upholds client satisfaction.
Conclusion
No matter what business sector you are in, you have to give your clients excellent service. All businesses should think about deploying the Salesforce Service Cloud to increase their business level and put their company in the best possible position to succeed. In addition to improving customer service operations, it ensures that a company's brand value rises.
Numerous capabilities in Salesforce Service Cloud may be used to enhance customer satisfaction and customer service agent performance. It can be difficult to migrate and extract sophisticated data from your current environments, such as Salesforce CRM or other third-party systems. This is where AwsQuality the best Salesforce Consulting Company in handy. Based on your business needs, we adapt Salesforce Service Cloud capabilities, set up tools, and smoothly migrate your data. AwsQuality delivers On-Demand Services for installing Salesforce Service Cloud. Our team of Salesforce Service Cloud specialists will assist in maximizing your Salesforce investment and providing a superior customer experience by helping to unlock the possibilities of Service Cloud.