Salesforce Implementation Partners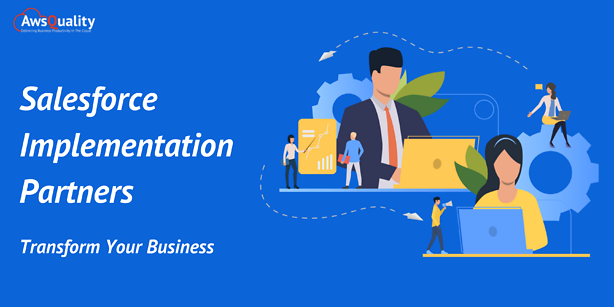 Through cloud-based software, businesses can communicate with their customers using Salesforce, a potent Customer Relationship Management (CRM) tool. You may get a thorough picture of your company's operations, finances, sales, marketing, and more from here.
Sales Cloud, Revenue Cloud, Salesforce Service Cloud Implementation, Salesforce Marketing Cloud Implementation, Pardot, and many other solutions from Salesforce are all specifically made to achieve each aim. Adequately implementing this CRM may improve sales efficiency, close more deals, and improve forecast accuracy.
Salesforce consultation, configuration, customization, migration, integration, maintenance, and other services are included. AwsQuality has been working on CRM development since 2008 and assists businesses in putting dependable Salesforce solutions in place to support their marketing, sales, and customer care operations.
Stages of Salesforce Implementation
Salesforce Consulting
At this point, we assess your current business requirements and establish the business goals that Salesforce should serve (such as raising salespeople's efficiency, cutting down on lengthy sales cycles, or developing a comprehensive customer view). Next, we discuss how to use Salesforce Sales Cloud Implementation features to accomplish your business goals and consider any tweaks and integrations required to customize the solution to meet your needs adequately. We also carefully prepare the implementation procedure to complete each phase on time and within budget.
Configuration and Customization
We have two options for customizing your Salesforce Commerce Cloud Implementation Partners, each with a different amount of complexity, expense, and platform customization. Salesforce configuration entails changing the default features with point-and-click tools. On the other hand, customization is a development approach that enables you to tune the platform more with Apex code if significant modifications are needed to achieve your business goals.
Integration
We carry out integrations to make your Sales Cloud Implementation Services interact with third-party systems, including ERP, e-commerce platforms, and document management systems, seamlessly. We also ensure better visibility of data flows across connected apps.
Data Transfer from an Outdated CRM
We seamlessly transfer your data into the new Salesforce solution without corrupting it, causing system outages, or disrupting your business operations. Your historical data is well-structured and available for use as soon as it is migrated because it was examined and organized before the migration. We create data structuring principles to help maintain data quality after the migration (for instance, the same rules).
Training for Users
Marketing Cloud Implementation Partners offer Salesforce training to improve user acceptance, assist users in adjusting to the capabilities of the Salesforce-based solution delivered, make the best use of Salesforce's built-in and add-on features, and raise staff productivity.
Launch
The migration of a bespoke Salesforce-based solution from the development environment to the UAT (User Acceptance Testing) environment allows representatives of the client firm to test the solution's functionality and ensure that it performs as needed. The new Salesforce solution is introduced to the production environment and access to the customer's workforce if the client approves the project.
After-launch Support
At the start of Salesforce usage, we offer on-demand post-launch support services (for instance, during the first three months after launch). Along with user training, these services provide feature tailoring and actionable steps to boost user adoption (resolve any Salesforce-related issues, provide release notes, etc.).
Development and Ongoing Support
To adapt to your organizational changes, continuous support services also involve further fine-tuning of Salesforce Community Cloud Implementation features and procedures. Additionally, they include creating bespoke apps that may be needed to address any post-implementation business needs.
Benefits of AwsQuality's Salesforce Implementation
Businesses from a variety of industries have the chance to:
Get automated business processes that are consistent and slick. We automate numerous procedures connected to sales and customer care, like giving discounts, following up with prospects, and prioritizing situations. Depending on your company's needs, we can automate business processes of any complexity using code-based customizations or the standard Salesforce process automation features. You'll be able to manage better various sales regions, goods, and services, as well as raise client satisfaction.
Obtain a Salesforce solution that is user-friendly.
Working with a Salesforce solution is simple and beneficial for sales managers, salespeople, customer service managers and agents because we know how to create a smooth user experience.
Profit from the solution delivery process's structure.
We deliver solutions in stages using a phased strategy, ensuring that the project's costs are kept in check, and the solution meets your needs. Therefore, for large implementation projects, we can deliver basic functionality and add extra features. In this scenario, clients can utilize the solution immediately and enjoy complete satisfaction with their initial needs. We can also do that if one-time delivery better suits your company's needs.
Engage the top Salesforce implementation consultant to quicken workflows and procedures and enhance business expansion.
With AwsQuality's Salesforce Implementation Services, one of the best Salesforce implementation firms guarantees the highest ROI for your solutions. By developing a strategic roadmap and connecting your working environment with your anticipated business outcomes, our Salesforce experts will help you increase team productivity. Every Salesforce deployment should begin with a carefully considered strategy and thoughtful advice based on investments in your company's technology, processes, and personnel. With Salesforce installation best practices, our Salesforce Planners can quickly assist you in achieving tangible results and business transformation.
Are You Prepared for The Implementation Of Salesforce?
Every business is distinct, and each one has different needs and objectives. Salesforce offers answers for several significant CRM-related issues. However, Salesforce might not be ideal for your company's requirements. Any organization that wants to implement Salesforce must invest considerably, so why not approach it cautiously?
We assist firms in creating a comprehensive plan for Salesforce deployment using our in-depth Salesforce knowledge. We help businesses determine the right moment to switch to Salesforce, analyze their demands, and recommend the finest unique solution that satisfies them.
Why Hire An Implementation Consultant For Salesforce?
CRM software like Salesforce is incredibly flexible and adaptive. Your company will require a well-thought-out strategy to make the most of all of Salesforce's capabilities to realize its potential fully. A well-thought-out CRM system can assist you in making significant time and resource savings.
One of the most excellent salesforce Implementation Partners, AwsQuality, helps companies make the most of their CRM systems.
Services we offer for Salesforce deployments.
From the very beginning, AwsQuality has made Salesforce work for our clients. To immediately improve your team's effectiveness, we ensure that you have a Salesforce interface that has been thoroughly tailored to meet your demands. Our offerings consist of the following:
Custom User Interface and Salesforce Lightning
Standard object configuration
Customized Coding
Process Automation
Data Validation
Data Modelling
Security Modelling
Custom object configuration
Form Validation
Implementing Salesforce At Each Stage
Our Salesforce CPQ Implementation Partners experts are aware of your company's requirements, and we will work with you to start using Salesforce Implementation Consultants or to enhance and relaunch your current Salesforce solutions.
Implementing from the ground up: If this is your first time using Salesforce, choose a new implementation.
Projects in re-engineering: By re-engineering your business structure, AwsQuality's Salesforce Implementation Company professionals will assist you in changing and improving your current CRM procedures.
Restoring initiatives: We will work with you to improve the functionality, usability, and adoption of your current Salesforce setup to provide a higher return on investment (ROI).
Our Implementation Strategy for Salesforce
You and our Salesforce Commerce Cloud Implementation professionals will execute your plan and achieve exceptional outcomes.
Identifying your goals, obstacles, and organizational structure
It is precisely identifying your Salesforce requirements.
Supplying accurate projections and project schedules
Changing the definition of your direct and indirect business techniques
Keeping you informed of the project's development at every stage
Completing your job within the allotted budget and schedule.
FAQ's
Salesforce Implementation times vary depending on the needs of the organization. It could take 3 to 4 weeks on average, but it could take much longer in some cases. Understanding standard best practices in salesforce implementation can help you get up and running faster and save money.
A Salesforce Implementation partner will manage in-depth training and collaborate with you to ensure that your team adopts Salesforce successfully. Assist your sales team in seeing past the difficulty of learning a new system to a more efficient sales process that leads to a fuller, better-managed pipeline and a faster deal closing process.
Salesforce consulting, configuration, customization, migration, integration, support, and more are all included in Salesforce implementation services. Since 2016, awsquality has specialized in CRM development, assisting businesses in implementing dependable Salesforce solutions to power their sales, marketing processes, and customer service.
A Salesforce partner will review your current sales and business processes with you during the implementation process. As they better understand your business objectives, they will make recommendations for specific changes that will improve your workflow without jeopardizing your values.
1. Implement agreed-upon solutions for clients and, as needed, provide technical demonstrations.
2. Conduct discovery meetings with clients as needed to determine requirements.
3. Clarify a client's system specifications by learning about their work practices and business model.
There are over 150,000 registered Salesforce partners in the ecosystem, and that number is growing by the day.
1. Assemble your team.
2. Begin recording your procedures.
3. Create a communication strategy.
4. Set realistic objectives.
5. Learn about your data.
Field Service Lightning (FSL) is a Service Cloud extension that offers a holistic view of workforce management. This is used to help businesses better track customer service calls from the call center agent to the dispatcher console to a completed service appointment from a mobile employee.