Top Mobile Application Development Company in India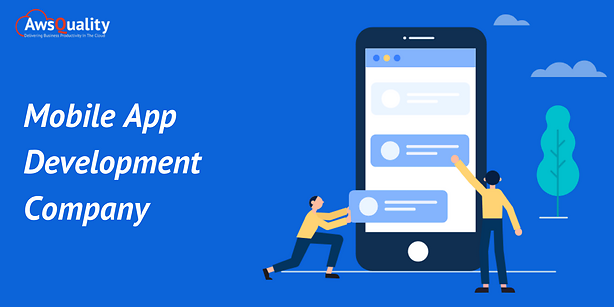 We are a part of an epoch witnessing complete digitization, no matter the industry. With the transformation wave, mobile applications for businesses have experienced a boom.
Mobile applications are one of the quickest ways to your consumer's pockets, literally and figuratively. With most of the world population owning smartphones, barring no age group, robust mobile applications are a shortcut to gaining a competitive edge in the digital realm. With benefits including unwavering customer loyalty, enhanced customer experience, and quick lead generation, you have the power to deliver immense value to your customers with a well-designed mobile application.
Top Mobile Application Development Company in India – When it comes to mobile app development, AwsQuality can help you create a history that will reap leaps and bounds in value. Combining the optimal selection of technology and utilizing the best usability design, our team of experts delivers scalable mobile applications to help you meaningfully engage with your customers and help take your business to the next level. Using proprietary methodologies and a rigorous development process including end-user behavior analysis and understanding of business requirements, our team of mobile app development experts leaves no stone unturned in delivering unmatched value to our client partners. We believe in getting you to the goal, and that is why we are your active partners right from consultation and design, to integration, development, and maintenance.
Native App Development
With the fast speed, performance, and security they offer, Native mobile apps are a straightforward choice if you are planning to create a dialogue with your consumer. Whether you are looking for iOS mobile apps or Android apps, the team of developers at AwsQuality are adept at native programming languages and develop highly functional native apps for your business requirements.
Hybrid App Development
Opening your business up to the best of both native and web platforms, hybrid app development can bring in a lot of traction, thanks to their consistent and flawless user experience across iOS and Android devices, and attractive UI/UX design. AwsQuality uses the latest technology to develop hybrid apps that help you reach your consumer acro the Android and iOS platforms, without compromising the overall experience and burning a hole through your pockets. 
Our highly skilled and experienced in-house mobile app development team has years of experience working with ReactNative, Flutter, Xamarin, and NativeScript.
Go Mobile, today!
AwsQuality is formed on the principle of digital transformation. Where we come from, being future-ready is the way to go – and the best way to do that for your business is by mobilizing your business through robust mobile applications. Whether you are a startup or a well-established business, building an application for your business is a step away from being relevant in the digital space. The experienced team of developers at AwsQuality works with you to evaluate your current mobile landscape and create mobile solutions in the dimensions that matter most. If you are looking for an unmatched Top Mobile Application Development Company in India for your business needs, fill out a contact form. One of our representatives will get in touch to understand your requirements. You can also call +1-571-250-7375
FAQ's
AwsQuality is the preferred partner for Salesforce, mobile applications, web development, and other software development services for businesses in various industries. Our solutions, services, and products have helped our clients maximize their growth potential by leveraging innovative and best-in-industry solutions powered by cutting-edge technologies.
The mobile development process entails creating installable software bundles (code, binaries, assets, and so on), implementing backend services like data access through an API, and testing the app on target devices.
No doubt it's AwsQuality we have an expert team that creates measures applications to help you substantively participate with your customers and take your business to new heights. Our mobile app development experts team leaves no stone unturned in delivering unrivaled value to our client partners.
Kotlin is a statically typed programming language. Kotlin has quickly gained popularity since its introduction in the development world, and it is now one of the best languages for Android app development in 2021.
App development can take anywhere from three to nine months, depending on the app's complexity and the structure of your project. Each stage of the process takes a different amount of time to complete, but the most time-consuming is One or two weeks to write a project brief.
Salesforce Platform is a collection of point-and-click tools that make creating custom apps a breeze. Combining it with the Salesforce mobile app, a ready-made power tool for running your business from your phone, allows you to connect your entire business on a single standard, mobile-ready platform.
Communication for Development is a social process that uses various tools and methods to promote dialogue. It is also about seeking change at multiple levels, such as listening, building trust, sharing knowledge and skills, developing policies, debating, and learning to achieve long-term and meaningful change.
The device's network capabilities for accessing computing resources remotely; as a result, the mobile app development process entails creating software that can be installed on the device, enabling backend services for data access via APIs, and testing the application on target devices.