Salesforce Support & Maintenance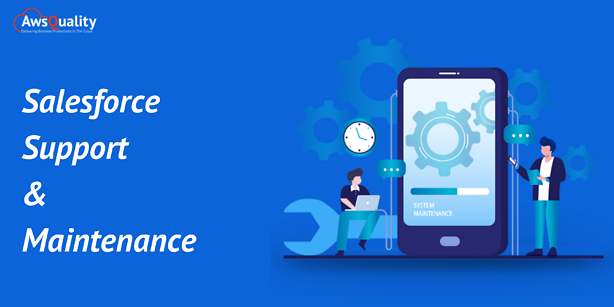 You concentrate on the core business and let our Salesforce experts take care of your Salesforce implementation.
A well-maintained CRM is a key to customer satisfaction. AwsQuality's Salesforce maintenance service experts apply their extensive CRM expertise to guarantee a steady performance of your Salesforce CRM system.
Our Salesforce support experts are always ready to go the extra mile to provide you with a smooth CRM experience. From identifying weak areas to user-training and tuning the system, tracing-correcting every issue, and integrating custom features, you name it, we do it. If needed, we will render support for your in-house resources by filling in the gaps.
Top Salesforce Challenges For Businesses
Intricated performance issues in Salesforce
CRM downtime issues and recovery sessions
Growing business needs
Salesforce development Related issues
Testing and maintenance Challenges
Salesforce app support needs
Poor user adoption
Our Salesforce Support and Maintenance Services
AwsQuality is one of the best salesforce support service providers. Call us today for a free of cost consultation to evaluate your support needs and find out which Salesforce support system is the best option for your organization.
Ongoing Management:

Remote administration of everyday problems, including security management, routine maintenance, user management, and reporting.

Bug Fixing:

Re-evaluating the structure, identifying and reducing errors in the system, tuning misconfigured pieces, fixing production issues, and add-ons.

CRM Monitoring:

Forecasting system obstacles by proactive actions and performance tracking.

User Support:

Helping users to get the most out of their Salesforce system.

Feature Customization:

Updating the system to continually enhance the conversation with customers and keep up with trends of the CRM world.

Salesforce App Support:

Installation, suggestions, management, and removal, including troubleshooting of Salesforce AppExchange packages.

Analytic Support:

Assisting our business users to create/understand reports, list views, report types, analytic snapshots/reporting snapshots, dashboards, or any custom statement on demand.
Why Work With AwsQuality
Client Satisfaction is our first priority. AwsQuality focuses on innovative working methodologies to deliver the best every time. Here is why you should choose AwsQuality for your next Salesforce project:
Reliable Delivery:

AwsQuality's certified Salesforce maintenance services experts specialize in Salesforce. Our extensive global experience reflects in our project delivery.

Smooth Transformation:

We follow a broad approach from the consultation and discovery phase to build, accompanied by a comprehensive plan and sturdy implementation. We ensure the smoothest business transformation.

Flexibility:

AwsQuality practices an agile approach for Salesforce development. We have an Innovative culture with an expert team of salesforce enthusiasts who is always willing to provide the best-fitted salesforce support services for your business.

Project Leadership:

We take ownership of the project to lead you towards business success. That enables us to imagine the long-term of the business, and appeal passionately for our ideas.

Rich Customer Experience:

AwsQuality has a well-trained and skilled team of Salesforce consultants that understand your problem to the roots. We Assure excellent experience to our clients.