Salesforce Consulting Company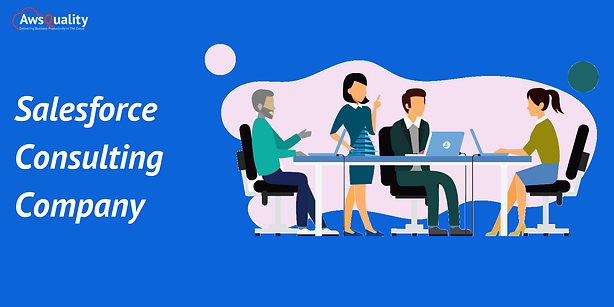 Salesforce Consulting Company specializes in helping businesses of all sizes leverage the power of Salesforce to optimize their sales, marketing, and customer service operations. With our expert guidance and support, you can take your business to the next level and achieve tremendous success. Salesforce Consulting Services are always available to help the lovely trinity of sales, marketing, and customer service. We help firms in professional services, retail, manufacturing, IT, banking & finance, healthcare, and other industries maximize the benefits of Salesforce by drawing on our significant CRM consulting experience.
What Our Consultants for Salesforce Do
AwsQuality offers thorough advice on whether you want to use Salesforce or enhance your current system, which includes:
Creating business goals. Specifying the business goals Salesforce Consulting Company will assist. Salesforce consultancy may help you quickly and effectively manage your difficulties, whether you need to enable reports with greater insight, shorten drawn-out sales cycles or case resolution times, implement effective email marketing campaigns, or automate operations connected to sales and customer care.
Once your business objectives are clear, you can map them to Salesforce features. It's time to decide which Salesforce capability (either standard or bespoke) will help you accomplish them.
Advising the best Salesforce version to use. You can manage your company's challenges by choosing the suitable edition without paying for additional features. We assess your requirements and suggest an edition that is ideal for your business.
We are designing the Salesforce Sales, Service, and Marketing Clouds' marketing, customer service, and sales processes. For instance, we use Salesforce to automate sales and customer care workflows, build individualized customer journeys, target advertising campaigns, and much more to assist our customers in achieving their business objectives.
Construction of a user adoption strategy. Salesforce Consulting Company offer a user adoption approach that includes iterative user training, prompt user support from the Salesforce admin, release notes, and incentives for experienced Salesforce users to help their users master the new system.
Our Salesforce Consulting Services Include:
Whether you want to combine Salesforce with other systems and applications, optimize your current setup, or adopt Salesforce for the first time.
Salesforce Implementation: We can help you get up and running with Salesforce quickly and efficiently, with a focus on best practices and customized configurations that meet your unique needs.
Salesforce Optimization: If you're already using Salesforce but feel like you need to get the most out of it, we can help you optimize your setup and configuration to improve your sales, marketing, and customer service processes.
Salesforce Integration: We can help you integrate Salesforce with other systems and applications to streamline your operations and improve your data management.
Custom Salesforce Development: Our team of developers can construct bespoke apps, integrations, and other solutions to match your needs if you require custom Salesforce development work.
Our strategy is centered on comprehending your company and your particular needs to provide solutions suited to your unique aims and ambitions. Salesforce Service Cloud Consultant approach every engagement collaboratively, collaborating closely with our clients to ensure we're providing value and upholding their expectations.
Salesforce Product We Offer
Salesforce Mobile: Salesforce Mobile allows users to access their Salesforce data and workflows from any place or device. Salesforce Mobile users may access dashboards, real-time alerts and notifications, manage leads, possibilities cases, and tasks from anywhere, and communicate with colleagues.
Service Cloud: Salesforce Service Cloud is a service management system that provides businesses with a comprehensive picture of customer interactions and concerns to provide outstanding customer experiences. With the help of the Salesforce Sales Cloud Consultant, companies can manage cases, automate workflows, and deliver individualized support across all channels, including phone, email, chat, and social media.
Salesforce CPQ: Salesforce CPQ (Configure, Price, Quote) is a potent tool that helps businesses to automate the configuration, pricing, and quotation of goods and services, streamlining their sales processes in the process. Companies may increase their sales accuracy, efficiency, and profitability with CPQ.
Salesforce Financial Cloud: Salesforce Consulting Companies can manage customer interactions, investments, and financial planning all in one place with the help of the sophisticated Salesforce Financial Cloud platform, which was designed specifically for financial services organizations. Using Financial Cloud, businesses may enhance customer experiences, gain deeper insights, and reduce procedures.
Community Cloud: Salesforce Community Cloud is a technology that helps businesses create distinctive online communities for their customers, partners, and employees. Companies may use Community Cloud to tailor experiences, encourage teamwork and information sharing, and boost consumer engagement and loyalty. In addition, Community Cloud offers social listening, analytics, and marketing automation solutions.
Why Choose AwsQuality's Salesforce Consulting Services?
AwsQuality's Salesforce Consulting Services are designed to help you with your sales, marketing, and customer care needs. Our Salesforce consultants guide you through any technological stumbling blocks on your Salesforce app journey to Salesforce AppExchange Summit. Having any AppExchange solution produced by AwsQuality means our certified specialists will cover every part of the Salesforce development process.
At each stage of the procedure
AwsQuality, a reputable Salesforce consulting firm in the United States, offers Salesforce customization consultancy.
If a company already uses Salesforce CRM, Salesforce Service Cloud Consultant can help them get the most out of the program by providing Salesforce customization consultancy. Salesforce custom fields, objects, processes, and data management methods are areas of expertise for our Salesforce experts in the United States.
We proposed Salesforce implementation consulting.
Our teams help businesses plan how to incorporate Salesforce and Salesforce solutions into their business operations. We aid in selecting Salesforce products, services, and solutions that are suited to the nature of our customers' company needs. Rethink your business plan with the help of the best Salesforce Certified Consultant in the United States.
We assist you in finding the best Salesforce Consulting Partner for your needs.
AwsQuality, a Top Salesforce Consultant, provides experienced assistance to assist organizations in understanding why and how Salesforce is an excellent solution for customer relationship management. View our CRM case studies.
Salesforce transformation is just a click away from your business, let's connect!
Request Consultation
FAQ's
Salesforce consulting partners are companies that Salesforce has approved to design and supply custom solutions and project implementations and integrations. These businesses have been trained to lead the innovation phase and assist businesses in connecting with their customers in innovative ways.
A Salesforce Consultant assists businesses in meeting their objectives by driving client-specific deployment and ongoing system upgrades on the Salesforce platform.
Step 1: Learn about their mission and vision. Step 2: Look into the industry experience. Step 3: Inquire about their level of collaboration. Step 4: Determine the team's strength and technical expertise. Step 5: Be wary of quotes that are too cheap. Step 6: Assess the strategy
AwsQuality is the most reliable Salesforce consulting firm that helps you to understand your customers' preferences and motivates you to provide better service to them. Salesforce CRM enables you to utilize the most advanced cloud, social, and mobile-based solutions to assist organizations in increasing conversions and productivity.
Salesforce consulting services are designed to assist you with your sales, marketing, and customer service requirements. We leverage our extensive CRM consulting knowledge to help businesses in professional services, retail, information technology, manufacturing, finance and banking, healthcare, and other industries profit from Salesforce.
While Professional Edition (PE) supports up to three Record Types per object, Enterprise Edition (EE) provides an unlimited number of Record Types. Process Builder: This feature enables administrators to automate business processes within the Salesforce platform.