Salesforce Consulting Company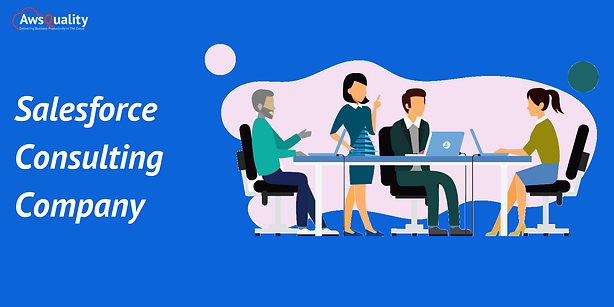 Salesforce implementation requires a proactive attitude and technical know-how to get the intended results. Between 18% and 69% of CRM, adoption projects fall short because of poor project management and inflated hopes. To maximize return on investment, businesses rely on the skills of a Salesforce partner.
With the help of Salesforce's partner program, you can enhance and expand prosperous enterprises while delivering client success. This program offers four categories:
Agencies & Consulting Partners (System Integrators):
Offer system design, solution integration, and product deployment services in addition to strategic business consulting. By putting their skills to use, fostering personalized practices, and utilizing cutting-edge solutions, they help businesses expand and become more efficient.
Partners on the AppExchange:
ISVs, Independent Software Vendors, create and sell software products based on or linked to the Salesforce Platform.
Partners who resell:
Salesforce licenses are sold by partners who aren't necessarily involved in their deployment (currently only available in EMEA, APAC and LATAM).
Provider of Managed Services (MSP):
The program was created for businesses that offer continuing, repeatable, and post-implementation services, like administration. Consulting Partners alone are eligible to choose this program.
Do you want to know how a Salesforce consulting partner can assist? Are you in the appropriate location? If so. We shall respond to the following queries in this article:
A Salesforce consulting partner is what?
How can I join Salesforce's consulting partner program?
What levels are there for Salesforce consulting partners to reach?
Exist any extra resources and tools for a Salesforce consulting partner?
What does being a Salesforce consulting partner entail?
How can you determine if a Salesforce consulting partner is necessary?
Why use a partner Salesforce consulting firm?
A Salesforce consulting partner is what?
A business that Salesforce has permitted to create and offer unique solutions and project implementations and integrations is known as a Salesforce consulting partner. These businesses have the expertise to drive the innovation phase and support businesses in developing new customer relationships.
These companies market their expertise in Salesforce to customers who need help with system integration, software migration, and custom application development. They demonstrate proficiency by keeping up their Salesforce certifications and displaying portfolios of finished projects. They improve your experience while helping you grow and develop your business.
How can I join Salesforce's consulting partner program?
Applicants must complete a complicated selection procedure to join the Salesforce consulting partner family. They must fulfill the prerequisites and supply the appropriate data to be accepted. This calls for significant work on expenditures, training, certificates, etc.
The first step for many to access your community is to accept the rules outlined in the Salesforce Partner Program Agreement (Salesforce partner community).
Salesforce consulting partners must meet the following criteria:
Certificates: A partner must hold two certifications to apply for the program. One individual with two or more credentials, or two people with at least one certificate each, can meet this requirement.
Payment Fees: There will be no more yearly fees starting with the fiscal year 2023. Future consulting and MSP partners will have to pay a one-time membership charge of $100.
What levels are there for Salesforce consulting partners to reach?
Salesforce categorizes consulting partners into four levels: Base, Ridge, Crest, and Summit. Partners are assessed every quarter according to Salesforce's fiscal year, and depending on their Trailblazer consulting partner score, they may be moved to a different level.
The Trailblazer score evaluates a partner's performance of Salesforce's objectives in four key areas: customer success, innovation, growth, and impact (formerly called lead). This score has a maximum possible of 1000. All the program's components, the maximum points allotted for each attribute, and the prerequisites necessary to score all the issues in each area are listed here.
Any reassignments that result from assessments go effective on the first day of the month after the conclusion of a Salesforce fiscal quarter.
On or before the level's effective date, Salesforce notifies each partner of their new status. Only eligible participants may be kicked out of the program and the partner community with a fee refund. Members promoted to a higher level during a fiscal year maintain that level for the balance of that year and the following year before being reviewed per their new level.
Exist any extra resources and tools for a Salesforce consulting partner?
To better serve their clients and improve their practices, Salesforce offers its Salesforce Consulting Partner the resources, training, and tools they need to become experts in particular business functions, product areas, and sectors.
Following are some of the advantages provided by the consulting partner program, broken down by category:
1. Create and expand.
Access to discussion boards where you can meet people worldwide and exchange experiences.
Marketing Cloud trial companies are constructing and testing this tool's capabilities.
Newsletter for Consulting Partner Insights.
Enterprise Edition Licenses for Lightning CRM (Sales & Service Cloud) and myTrailhead.
Version Plus of Pardot.
2. Sell and promote.
Partners might be qualified to get a referral bonus when a suggested lead is provided through the partner community.
AppExchange Marketing Program Participation (AMP).
3. Support and assistance.
Partner Premier Success provides unlimited technical support.
Vouchers for credentials to pay for certification tests associated with the legitimate Salesforce credentials offered on Trailhead.
These perks may also differ based on the member's level.
What does being a Salesforce Consulting Partner entail?
This indicates that the Salesforce Consulting Company produces good work and is highly dedicated to its customers. When Salesforce works with a consulting partner, they may do impossible tasks independently. Of course, joining a partnership like this implies you need more control. Consequently, this is a choice that should be made with time. The correct method to do something takes a lot of effort and dedication.
Keep in mind that consulting partners can aid in selecting a system, its configuration, the choice of applications, developing new tools, and coordinating all of these. Your consulting partner takes care of the minutiae in this way, allowing you to concentrate on the expansion and development of your company.
How can you determine if a Salesforce consulting partner is necessary?
Top Salesforce Consulting Companies are the answer if you're having issues with your database's organization and migration, implementation, the introduction of updates, integration by systems and departments, or the development of custom applications. They have received extensive training in leading the innovation phase and assisting businesses in developing novel consumer connections.
Why Work with a Partner in Salesforce Consulting?
Ability to customize for you.
All organizations are different from one another; they have different turnover rates, employee counts, goals, territorial distribution, etc. Here, a consulting partner's ability to customize plays a key role. They can create a suit for each organization thanks to their deep platform knowledge.
To help to Certified Salesforce Consulting Company gain expertise in particular business processes, product categories, and industries and enhance their practices, Salesforce offers them resources, training, and tools.
They have the necessary experience.
Partners with Salesforce that maintain their certifications and display portfolios of completed projects serve as examples of their skills. A consulting partner's daily routine includes staying current and demonstrating their interest in and dedication to each client. They can then assist you in enhancing and expanding your company while also improving your experience.
Reduce costs and time.
Organizations frequently opt to handle the implementation process themselves, and when they hit a roadblock, they seek the help of a Salesforce Development Consulting. They will have squandered their time and several resources because the proposed goal still needs to be accomplished.
A good choice is to employ a Salesforce Customization Consultant to handle the Salesforce implementation from the ground up and the accompanying changes with each release. They will be able to assist you with the system, department, and outside application integrations. Whether you use the service part-time or full-time, you will save time and money.
You may minimize setbacks and achieve deadlines for task completion by working with a Salesforce professional. You can delegate tasks to your consulting partner while focusing on other high-impact endeavors.
Customer-focused companies
Employing a Salesforce Consulting Company in India will benefit you and your customers. You will be able to provide them with individualized services and fulfill their requirements and requests. Doing this will strengthen your bonds with them, which will positively affect how well your company performs. You'll have a thorough understanding of your client, which can help you create more effective business plans.
They'll help you make better business decisions.
It's more complicated than it seems to make the proper decisions. Sometimes we need more knowledge to do so. You may get the information you need to make wise decisions from a Salesforce consulting partner. You will collaborate with your management team to accomplish the suggested goals.
Improve your return on investment
Your company will develop steadily with the aid of Salesforce Consultancy Services. This implies that with their assistance, your objectives will be accomplished as intended, boosting the effectiveness and profitability of your company. Greater productivity from your employees, time savings from superfluous tasks, effective implementation techniques, and a wide range of opportunities will all help your organization run more smoothly.
Project for effective implementation (before, during, and after)
A Salesforce Commerce Cloud Consulting conducts a situational diagnosis when they gain access to a business to determine the problems affecting or might be affecting the deployment process. This is advantageous since it allows for quick addressing of issues and the development of solutions that benefit the organization.
Everything will be more straightforward if a professional handles the Salesforce deployment. As a result, you will have a partner who is knowledgeable about the traits and potential of the platform, the adjustments that must be made depending on the type of organization, the new functions, etc. It serves only if you fully utilize Salesforce in your business.
Salesforce is the Wave of the Future.
By harnessing the full power of Salesforce Commerce Cloud Consultant, you can transform how you interact with your customers, partners, prospects, and employees.
With Salesforce, the top CRM in the world, you can use the most significant cloud, social, and mobile-based technologies to help businesses increase conversions and productivity. AwsQuality, a Salesforce consulting firm, encourages you to better serve your customers by assisting you in identifying their preferences.
Why Choose AwsQuality's Salesforce Consulting Services?
We comprehend your business needs and recommend the top Salesforce items following them. Additionally, we will put the optimum process workflows to use these solutions for your company as effectively as possible.
A team of experts on staff
Our group of knowledgeable Salesforce Certified Consultants is prepared to change your company.
Customizable Salesforce Products
The goal is to overcome your most critical business issues rather than innovate.
Goal-Driven Approach
We look for practical and correct answers to find your most excellent outcomes.
Highly Flexible Support
Continually delivering additional value to our clients is how we operate. We use agile and incremental methods.
Throughout the Process, Salesforce Consultation
Because each step is essential.
Choosing The Correct CRM
Because every company is unique, we respect yours. As a Salesforce Consulting Partner, AwsQuality offers you professional assistance in identifying your needs and choosing a customer relationship management system that will support your specific business objectives, whether it be Salesforce or a completely new CRM solution.
Implementation of Salesforce
We assist businesses in determining and planning the most efficient method to adopt Salesforce.com products for their business processes as a provider of Salesforce consulting services. To find the best Salesforce solution, features, and modifications for your business needs, we offer our Salesforce consultancy knowledge to you.
Custom Salesforce Development
Are you already utilizing Salesforce CRM? Great! But hold on, does Salesforce meet all of your business needs? If not, this might be the ideal time to modify your CRM. AwsQuality's Salesforce professionals are knowledgeable about custom fields, objects, workflows, and data management strategies. For your company's needs, we provide Salesforce consulting services that are completely individualized and adaptable.
Our Salesforce Consulting Strategy
Instead of a one-step process, Salesforce consulting and implementation is more of an "innovate, improve, and improvise" procedure that produces optimal results. Our Salesforce implementation consultants assist you in personalizing Salesforce with the help of our intuitive consulting services. The prominent implementation strategy of our Salesforce consultants comprises the following stages:
The Salesforce consultation phase: to understand your business's actual needs and demands.
The planning phase: to draw the right plan for your Salesforce transformation.
Identifying the right features: You should get what suits your business best.
Setting up the Salesforce account and buying the license, leave it all to our experts.
Implementing Salesforce configuration, automation, and customization.
Third-party integrations and additional API integrations.
Building libraries, dashboards, and reports.
Data analysis, data mapping, data cleansing, and data migration.
Testing period and end-user training.
Maintenance and support, and we will be there for you on each step after you go live.
Salesforce transformation is just a click away from your business, let's connect!
Request Consultation
FAQ's
Salesforce consulting partners are companies that Salesforce has approved to design and supply custom solutions and project implementations and integrations. These businesses have been trained to lead the innovation phase and assist businesses in connecting with their customers in innovative ways.
A Salesforce Consultant assists businesses in meeting their objectives by driving client-specific deployment and ongoing system upgrades on the Salesforce platform.
Step 1: Learn about their mission and vision. Step 2: Look into the industry experience. Step 3: Inquire about their level of collaboration. Step 4: Determine the team's strength and technical expertise. Step 5: Be wary of quotes that are too cheap. Step 6: Assess the strategy
AwsQuality is the most reliable Salesforce consulting firm that helps you to understand your customers' preferences and motivates you to provide better service to them. Salesforce CRM enables you to utilize the most advanced cloud, social, and mobile-based solutions to assist organizations in increasing conversions and productivity.
Salesforce consulting services are designed to assist you with your sales, marketing, and customer service requirements. We leverage our extensive CRM consulting knowledge to help businesses in professional services, retail, information technology, manufacturing, finance and banking, healthcare, and other industries profit from Salesforce.
While Professional Edition (PE) supports up to three Record Types per object, Enterprise Edition (EE) provides an unlimited number of Record Types. Process Builder: This feature enables administrators to automate business processes within the Salesforce platform.