Salesforce AppExchange Partner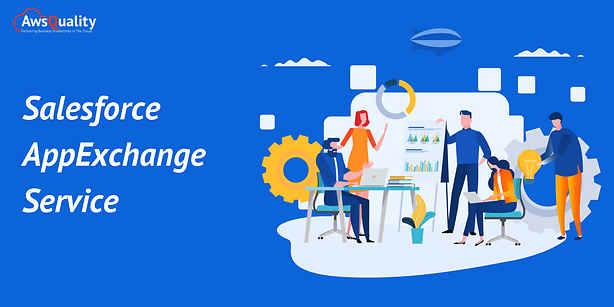 Salesforce users know that practically everything can be altered to meet their needs. The Salesforce platform is designed to adapt to your business needs, from simple UI adjustments to sophisticated internal changes. But did you realize that you may grow a successful business while making these customizations available to Salesforce users?
The AppExchange Partner Program can help with that. You can get all the resources you need to promote your ideas through the AppExchange Partner Program, including infrastructure, tools, and knowledge. Since you build on the Salesforce platform as an AppExchange partner, you are already competitive before your team begins to create.
| | |
| --- | --- |
| Because the Salesforce platform is: | Your solution is: |
| Cloud-based | Secure, scalable, and always available |
| Core to all our products | Available to millions of users today |
| Upgraded three times a year | Ready to grow in a rapidly changing business landscape |
| Both declarative and programmatic | Easy to build with clicks or code |
To become an AppExchange partner, you can be an experienced Salesforce user. All you need is an idea for the following game-changing solution, and we'll assist you with bridging the gap between concept and market.
The Partner Community: What Is It?
The AppExchange Partner Program's web hub is the Partner Community. It serves as a community gathering spot for AppExchange partners and Salesforce specialists to exchange expertise. You can access it as a resource and location to receive help, manage your AppExchange relationship, and receive training. The Partner Community offers the following activities for you to engage in.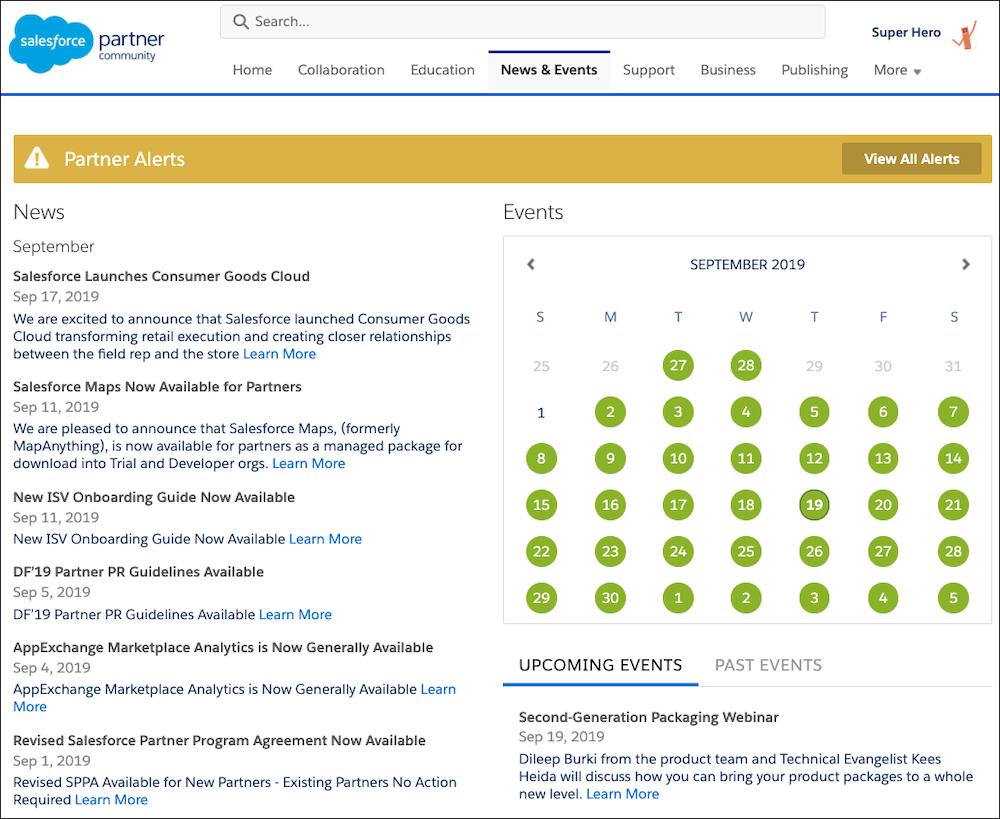 Discover how to organize, create, construct, market, and distribute your solution.
Taking a concept to market involves many steps. The Partner Community has many resources available to assist you on your journey, including instructional films and in-depth documentation. We also have a sizable online training library to increase your Salesforce knowledge. The catalog offers training programs for obtaining certifications, role-specific instruction for your team, and details on the new Lightning Experience.
Work together with other AppExchange partners who are creating Salesforce platform-based applications.
Community is what we mean when we say it. By joining the Partner Community, you can network with and pick the brains of AppExchange partners who have built successful companies on the Salesforce platform. You'll have the chance to impart your knowledge to others as you gain experience.
Consult Salesforce professionals.
You're always in the AppExchange Partner Program. Every week, we hold office hours in the Partner Community, where you can speak with our sales, marketing, and security professionals in person. You can register support tickets and contact our devoted Partner Support team directly.
Learn about novel features, goods, and services.
We're constantly searching for ways to help our partners succeed. We share these innovations with you and demonstrate how to apply them to your business through the Partner Community. Begin by signing up for the AppExchange Partner Program. It is simple and free. Adhere to the AppExchange sign-up guidelines.
Your Team is Invited to the Partner Community
You're likely to work with one or more team members while creating, marketing, and supporting your solutions. Once you've been approved for the AppExchange Partner Program, inviting a coworker to join you is simple.
Visit partners.salesforce.com now.
Use the login information for your partner account to access the partner community.
To manage users, select.
Decide to Invite the User.
The invitee's email address should be entered. You can give that person permission based on their team role.
Press Invite. That person will receive an email from us inviting them to sign up for the Partner Community.
I'm done now! Continue doing this until you have invited every team member to the Partner Community. On the Manage Users page, you can modify permission settings anytime.
Follow the AppExchange Partner Program for updates.
As part of our commitment to provide consistent innovation, we're always considering innovative approaches to assist AppExchange partners in developing successful businesses. We provide several ways to learn about the most recent tools, resources, and events to help you stay up to date.
| | |
| --- | --- |
| If you are: | Then check out: |
| No muss, no fuss—You want a one-stop shop for information about the AppExchange Partner Program. | The News & Events page in the Partner Community the News & Events page gives you quick access to recent articles and blog posts, as well as a calendar of events and webinars. And don't worry if you can't make a webinar—most are recorded. |
| A Chatter enthusiast—You want to engage in conversations or ask questions. | The Announcements and Alerts Chatter groups in the Partner Community We share general AppExchange partner news, tips, and best practices in the Announcements group. The Alerts group is where we communicate important and time-sensitive information. |
| A social media guru—You want information that's easy to share with your personal and professional network. | Partner force on Twitter, Facebook, and LinkedIn |
| All about the visuals—You want information delivered with compelling audio and visual content. | Partner force on YouTube and SlideShare |
Constructing novel AppExchange applications and reshaping go-to-market strategies with AppExchange Consulting Partners
When creating Salesforce apps to fulfill the needs of the healthcare, manufacturing, professional services, retail, telecom, finance, and banking sectors, Salesforce AppExchange Consultants at AwsQuality put our outstanding skills to use.
For our clients, AwsQuality, one of the top Salesforce AppExchange partners, develops robust, bug-free applications to digitize the processes of customer support, sales, and marketing. Our programs draw a sizable user base and perform better on the Salesforce AppExchange.
Why Develop AppExchange Apps?
A wider audience:
Today, over 150,000 enterprise-level users are on the Salesforce CPQ AppExchange, and each one needs an app for some purpose. Who would want to lose so many potential clients?
Scalable Approach:
AppExchange apps are very future-focused, and unlike apps that are built traditionally, our solutions are scalable and suitable for extension in the future.
Unique Apps:
As Salesforce AppExchange partners, we take pride in offering our clients the apps they need while enabling simple installation, access, and integration of our solutions with the Salesforce platform.
Review of AppExchange Security:
The numerous security consent levels that AppExchange applications must go through contribute to the app's high level of security. The Salesforce professionals who validate the AppExchange app make sure to take into account every conceivable security scenario.
Faster App Delivery:
It is well known that the Salesforce AppExchange Service drastically cuts down on installation time, enabling the app to be delivered to the client more quickly.
Our Services for Developing Apps for AppExchange
To ensure that you have a fully customized app and a useful tool to address all your business goals, our salesforce AppExchange specialists will be with you at every level of your project. Click here to learn more about our Salesforce AppExchange app development services.
Consultation for Apps
AwsQuality's Salesforce AppExchange Consulting Partners assist in creating a thorough roadmap for your application.
Developing an app:
End-to-end services for developing the Salesforce AppExchange Development are offered to clients by AwsQuality. We can handle design, development, and deployment; you name it.
AppExchange conformity
Have issues submitted your app to the AppExchange? You can overcome all the challenges with the aid of AwsQuality.
Salesforce1 and Lightning:
With our Salesforce1 compatible AppExchange apps, get ready to witness the power of lightning.
What distinguishes us from other people?
Technically competent management:
As a Salesforce Consultant AppExchange, we adhere to established procedures for time management, risk mitigation, and budget management when creating apps for the Salesforce AppExchange. These procedures enable us to create reliable applications with shorter development cycles and costs. AwsQuality's skilled Salesforce AppExchange developers create apps that meet both the client's unique needs and Salesforce's security criteria.
Managing projects effectively:
Together with customer stakeholders, our Salesforce AppExchange Developer prioritizes the need to guarantee alliances of the upcoming application's functionalities. We effectively adapt to 1our clients' shifting needs to remain scalable at every stage of the project.
Put quality first:
Over all else, quality is our top priority. Traditional testing techniques, like code reviews and unit testing, aid in achieving the degree of quality that ensures the application will develop, be modified, and maintained with ease. The final output will be an app with a stable and bug-free user experience.
Long-term assistance and upkeep:
The Salesforce AppExchange App Development of our business ties does not end with the publication of the application; rather, we continue to offer our clients application updates to keep up with changing market trends. Even after your application has launched, Salesforce AppExchange API AwsQuality will assist you in improving its current features.
FAQ's
Salesforce AppExchange is the premier enterprise cloud marketplace. You can get results quickly and extend your customer 360 across every industry, department, and product with proven apps and professionals. With 117,000 user ratings and 9 million installs, you can be assured of selecting the correct app or specialist for your company's needs.
Salesforce AppExchange includes over 3,000 apps and features that increase the power and capability of Salesforce, and these apps are pre-integrated to work seamlessly with Salesforce by offering automated upgrades.
The two primary purposes of AppExchange are :-
1. Customers can share and install apps produced by Salesforce partners.
2. Admins can download and alter pre-built dashboards and reports.
It is critical to consider the following while building an AppExchange strategy:
1. Choose between a free and a premium solution.
2. In a developer edition org or sandbox, test the solution.
1. In the upper right corner of your screen, click 'App menu.'
2. Then click 'AppExchange,' and you'll be taken to another website.
3. When you click 'login,' you will be instantly logged in with your Salesforce credentials.
The top 3 and the most popular application on AppExchange
1. SMS – Magic
2. DocuSign
3. sCirrus Insight