Salesforce Lightning Consultants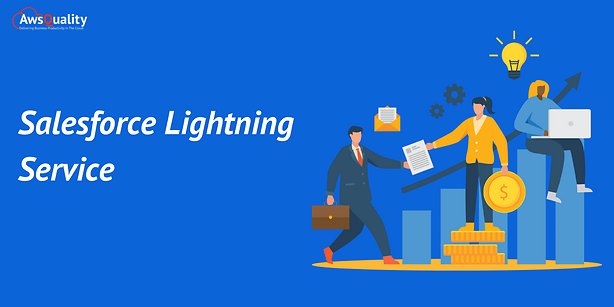 Salesforce lightning development and consulting company
Improve productivity and facilitate active work environments with lightning-fast mobile applications developed by AwsQuality a renowned Salesforce Lightning development company.
Why Salesforce Lightning Development
Salesforce Lightning is a modern, agile and excellent experience provided by Salesforce, supporting businesses to revamp and reinvent the sales process. Lightning Applications and components are the future of Customer relationship management. Salesforce Lightning introduces you to a unique approach to communicate with your CRM system. And the Good news is you will not have to worry about the implementation process, Our expert Salesforce Lightning developers will take care of that. We will design and develop Lightning-ready, swift and smooth applications and CRM features that complement your business needs the best.
AwsQuality's Salesforce Lightning Development Services
AwsQuality develops stunning Salesforce applications and components utilizing Salesforce Lightning Components. We make Salesforce instances Lightning compatible. Check out our Salesforce lightning expertise here:
Lightning Web Components:

Browsers are now developed enough that developers rarely shift to javascript anymore. Salesforce Lightning web Component framework enables developers to create complicated interfaces fast and effortlessly. The lightning framework supports developers to compose markups inside the template tags. Also, With the help of Lightning, developers can build custom HTML tags to fulfill your business requirements.
Lightning Web components can be called the feature of the future and our Salesforce Lightning consultants have mastered it. AwsQuality can produce solutions for your most difficult web development problems.

Lightning App Development:

Our well-trained and highly qualified Salesforce lightning developers will assist you to accelerate your business growth, with the help of Salesforce features as tailor-made lightning components and visual page-building.
AwsQuality understands the app development process inside-out. We maintain high-quality standards throughout the development process and deliver robust and scalable Lightning-ready applications lightning-fast. Also, we perform lightning-related testing services as salesforce lightning automation testing and salesforce lightning component testing.

Salesforce Lightning Consultation:

AwsQuality's expert Salesforce lightning consultants conduct extensive estimations to determine the needs of your business. This thorough aspect enables our consultation team to assist you with the best-customized solutions for the Salesforce success of your business.
Once we recognize your requirements, we will build engaging and amazing pages for you.

Why Our Salesforce Lightning Consultant

AwsQuality's Salesforce Certified consultants are expert counselors and they provide the most helpful consultation to accomplish sales objectives of any enterprise.

Our Salesforce lightning Consultants apply the best practices of the industry.
Our Salesforce Consultants dive deep into the sea of information to find the best for our clients.
Our certified consultation experts create well-calculated competitive strategies.
We at AwsQuality provide the most cost-effective solutions to our clients.

Lightning Component Development:

The user interface offered by Salesforce Lightning Component supports companies to get lightning-fast web and app development.
The accelerated performance rendered by AwsQuality's certified developers will allow you to instantly develop web pages and customized elements. And you can also reuse these components for mobile, web, and desktop platforms.
No matter how complex the design of your project is, we will develop and deliver your web project or application in record time.
Whether your need is a custom Salesforce app or a web solution, our certified Salesforce lightning developers will assist you to obtain seamless integration at a rapid pace.
Hire AwsQuality's Salesforce Lightning Developers today to get the taste of our lightning-fast Salesforce development. Contact us now!
Consult Now