Salesforce Lightning Consultants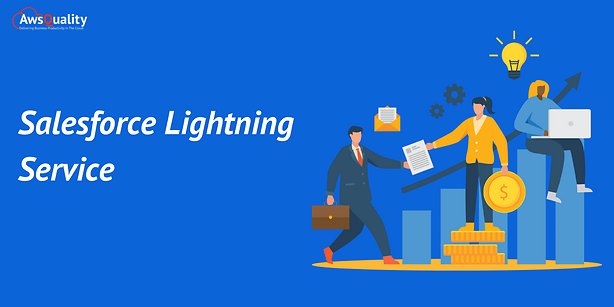 Salesforce Lightning Consultant offers enormous potential for enhancing productivity, cleverer work methods, an engaging UX, and quicker app development! Why gamble with things? Find out how AwsQuality Salesforce Lightning Application Development specialists can assist you in navigating the Lightning superhighway.
Most businesses must choose from Salesforce Classic to Lightning to benefit from its cutting-edge features, improved productivity results, intelligent workflows, etc. The Salesforce Lightning Consultants at AwsQuality have the knowledge to help with this shift.
AwsQuality Salesforce Field Service Consultants are fully prepared to develop a strategy that will work for your organization, will work to ensure a smooth journey, guarantee a cost-effective result, and ensure the transition is worth that hard-earned effort. Contact us today if you have decided to leverage Salesforce Lightning, whether during a new Salesforce Implementation or using Salesforce for several years, and require a transition from a Salesforce Classic to Lightning.
Our services for Salesforce Lightning
Salesforce Lightning Consulting professionals
With their years of experience, AwsQuality Salesforce Field Service Lightning Consultants can assist you in developing a strategy that will maximize the return on investment for your business while utilizing the Lightning Components, UX, and automated processes.
Lightning App Creation
The Salesforce Lightning Developers at AwsQuality are experts at creating managed and unmanaged packaged apps that are Lightning-ready and specifically tailored to Salesforce. The Salesforce Lightning Development team at AwsQuality is an authority on the AppExchange, and we specialize in developing Lightning Apps for start-ups and larger companies launching Lightning-ready apps. When they identify a market need and determine whether it will help the larger Salesforce Community, our in-house Salesforce Lightning App Development team has also created Salesforce Exchange Apps.
Ambient Cross-Device Experience
The Salesforce Certified Field Service Lightning Consultant at AwsQuality takes great pride in their work and appreciates innovation and technology. To make an existing Site.com and Force.com solution mobile and Lightning-ready with a responsive UX across all platforms, AwsQuality manages the full customization process. AwsQuality Salesforce Lightning developers like watching our customers' faces light up after implementing the solution.
Community Portals for Lightning
There has never been a better time to upgrade to Salesforce B2B Commerce Lightning Communities with the new features and enhanced capabilities!
The switch from Salesforce Classic to Salesforce Lightning B2B Commerce resulted in a significant UX improvement and a better user experience. The upgrade can be advantageous since it adopts a mobile-first strategy, reduces clicks overall, adds more drag-and-drop components, and speeds up design, development, and deployment.
The trained and skilled Salesforce Lightning Experience Development team at AwsQuality is prepared to start a collaborative discovery phase, create a tailored solution for your Salesforce Lightning Communities, and adjust to your unique requirements.
Lightning-fast personalization
AwsQuality can also help if a heavily configured, currently-in-use Salesforce Classic solution needs to be transitioned. Our Lightning-certified Salesforce consultants will re-engineer the design to make it compatible with Lightning and deploy Salesforce customizations to benefit from the new Lightning features, functionalities, and overall user experience.
Developing Lightning Components
The Salesforce Lightning Testing Development team at AwsQuality is well-equipped to create unique, reusable Lightning Components for all the impending, quick-turnaround Salesforce developments.
Automated Process Lightning
Salesforce Lightning App Builder Consultants from AwsQuality can help with all of your automation requirements.
To give your company access to all the benefits of Lightning, AwsQuality will analyze existing business processes and create a plan to automate them, including setting up the Salesforce Lightning Process Builder.
With lightning-fast mobile applications created by AwsQuality, a famous Salesforce Lightning Migration, you can increase productivity and facilitate active work environments.
Why Develop Salesforce Lightning
Salesforce Lightning Services is a cutting-edge, adaptable, and superb experience that helps companies rethink and redefine the sales process. Lightning Applications and Components will dominate customer relationship management. You are introduced to a novel method of interacting with your CRM system using the Salesforce Lightning Mobile App. Our skilled Salesforce Lightning developers will handle the implementation process, so you won't have to worry about it. We will create applications and CRM features that best meet your company's demands while being Lightning-ready, quick, and fluid.
Salesforce Lightning Development Services from AwsQuality
Utilizing Salesforce Lightning Components, AwsQuality creates beautiful Salesforce applications and parts. Salesforce instances are made Lightning compliant by us. View our Salesforce Lightning proficiency here:
Web components from Lightning:
Salesforce Lightning Developers rarely switch to JavaScript because browser technology has advanced enough. Salesforce Lightning's web component architecture enables developers to quickly and easily design complex interfaces. Developers can create markup inside template tags thanks to the lightning framework. Additionally, with the aid of Lightning, developers can create unique HTML tags to meet your company's needs.
The feature of the future, Lightning Web components, has been mastered by our Salesforce Lightning specialists. AwsQuality can solve your most complex web development issues.
Creating Lightning Applications
By utilizing Salesforce capabilities like custom lightning components and visual page-building, our highly skilled and certified Salesforce lightning developers will help you speed the growth of your organization.
AwsQuality has a thorough understanding of the app development process. We uphold strict quality standards through Salesforce Lightning Development and provide solid, scalable Lightning-ready applications in a flash. Additionally, we offer Salesforce lightning automation testing and salesforce lightning component testing as testing services connected to Lightning.
Consultation for Salesforce Lightning:
The skilled Salesforce Lightning Community experts at AwsQuality conduct thorough assessments to ascertain your company's requirements. This thoroughness enables our consultation team to offer you the best-tailored solutions for your company's Salesforce success. Once we understand your needs, we will create captivating pages for you.
Why We Use Consultant for Salesforce Lightning
Field Service Lightning Consultants from AwsQuality are knowledgeable advisors who offer the most beneficial advice for any company's sales goals.
The best practices in the sector are put into effect by our Salesforce lightning consultants.
Our Salesforce consultants delve deeply into the sea of information to identify the best solution for our clients.
Our licensed consultation professionals develop competitive plans that have been carefully calculated.
Our clients receive the most economical solutions from AwsQuality.
Design of Lightning Components:
Salesforce Lightning Sales Cloud Component's user interface enables businesses to obtain extremely quick web and app development.
You may quickly create web pages and customized elements thanks to the faster performance provided by AwsQuality's certified developers. Additionally, you may use these components on desktop, online, and mobile platforms.
We will quickly develop and deliver any web project or application, regardless of how intricate the design of your project is.
Whether you require a web solution or a customized Salesforce app, our experienced Salesforce lightning developers will help you quickly achieve seamless connectivity.
To experience our lightning-fast Salesforce Lightning Support, hire AwsQuality's Salesforce Lightning Developers today. Call us right away!
Hire AwsQuality's Salesforce Lightning Developers today to get a taste of our lightning-fast Salesforce development. Contact us now!
Consult Now
FAQ's
The main distinction between the previous and new versions of Salesforce is the User Interface. Salesforce Lightning provides a superior user interface experience to its users by including elements such as news about significant accounts and deals and performance charts that were not available in the Classic version.
Salesforce Lightning is the latest version of the Salesforce CRM platform. It includes a modern user interface and optimized pages for managing sales and service procedures.
Sales Cloud Lightning is a seriously intelligent Customer Relationship Management (CRM) application that helps you sell smarter, faster, and the way you want, from anywhere.
Salesforce Lightning has a new, more user-friendly interface, faster performance, and some new features. On the other hand, Classic stopped receiving new features in 2019 and has become slower.
The Salesforce Lightning Experience has been available for quite some time, and it has proven to be more efficient than the Classic version of Salesforce. However, because it is a client-side platform, users will likely experience slow load speed issues during the transition.
• Navigate to Administer > Manage Users > Users on the Salesforce Setup page.
• Click the Edit button next to the desired user's name.
• Check the Service Cloud User box and then click Save.
• Search for Apps in the Search box and then click on the Apps link.
• Select the Console option and then press the Next button.
• Fill in the blanks with the information requested.
• Click Next; then, choose an image for your app using the Insert an Image button.
• Add Accounts and Cockpit from Available Items to Selected Items by clicking Next.
• Click Next, and select the appropriate options for the items you've just chosen. Select As a primary tab if you want an object to appear as a primary tab. Alternatively, select As a subtab of.
• To make this console app visible, click Next and then select profiles using the checkboxes in the Visible column.
• Click the Save button. The console app is now available in the top-right drop-down box.

• Service Console.
• Automation.