Salesforce Development Company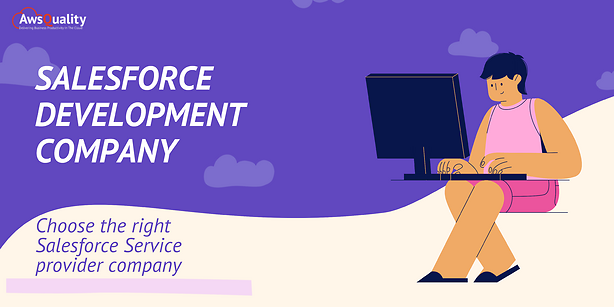 Exploring endless possibilities of CRM with Salesforce development services.
At AwsQuality, we believe that customer satisfaction is the ultimate game-changer in this digital age. We are a skilled team of Salesforce experts and certified developers who provide competitive Salesforce development services with a record of 100% client satisfaction. AwsQuality is the ideal partner for all of your Salesforce requirements. We provide complete services around Salesforce development as Salesforce consulting, customization and integration, administrator and data Migration services, Salesforce Lightning, and several other CRM services. We provide end-to-end Salesforce custom development services and our skillful team of Salesforce perfectionists will make sure that you lead towards business success.
Our Prominent Salesforce Solutions
Salesforce Development Services
Our Salesforce development services assist businesses to draft, design and develop comprehensive Salesforce-based enterprise solutions.
We transform your way of interacting with your customers. We will help you unleash your business's full potential utilizing Salesforce technologies like Service Cloud, Sales Cloud, Marketing Cloud, Wave Analytics, and more.
Salesforce Development Consultation

Being a Salesforce CRM development services provider company, we analyze your business inside-out and then prepare a solution that matches all of your CRM needs. We will help you decide the best customization for your enterprise.

Force.com Development

An essential segment of App Cloud, Force.com is a strong cloud computing platform provided to automate business workflows. We help businesses build and implement robust Force. com-based enterprise solutions.

Force.com Integration and Migration

A Salesforce development company like AwsQuality, helps organizations to build custom integration solutions to combine various services and data sources with Force.com applications. We also assist businesses in migrating their legacy enterprise databases to Force.Com automated solutions.
Salesforce AppExchange App Development
AppExchange is a Salesforce marketplace for apps that can considerably heighten the existing functionality of Salesforce and can even provide added features. AppExchange is an easy way for ISVs to strike their customer base via Salesforce while providing them solutions to integrate with Salesforce. For enterprises, Salesforce AppExchange apps provide compact features to add to their Salesforce CRM solutions by just clicking and installing.
App Consultation

Being a Registered Salesforce ISV Partner we utilizing our vast experience of AppExchange to suggest companies how they can gain the best out of Salesforce apps.

App Development

AwsQuality delivers end-to-end Salesforce AppExchange development services.

Lightning Ready Apps

AwsQuality is an expert in developing Salesforce AppExchange apps that are Salesforce1 supportive and Lightning ready.
Salesforce Lightning Development
The Lightning Experience has totally transformed the way businesses utilize Salesforce. Salesforce lightning has initiated new possibilities and approaches to use Salesforce. However, companies are bound to reconstruct their customizations to meet the new user experience standards. AwsQuality being an expert Salesforce development company has mastered the Salesforce lightning development and we will help you at every stage of your transition.
Salesforce Lightning Consultation

AwsQuality will help your business to achieve a seamless Salesforce Lightning implementation. We are the best lightning builders.

Lightning Component Experts

Our developers have mastered the art of creating Lightning supportive Force.Com and Visualforce applications by leveraging lightning components.

Lightning Component Development

If you are not satisfied with the standard lightning components and your business is demanding more, let us help you out. Our Salesforce development service providers will help you to develop unique lightning components according to your business needs.
Development with Lightning Web Components
The Lightning has recently been enhanced by LWC. As the name implies, "Salesforce Lightning Web Components" are frameworks based on components. Taking its development game one step ahead, Salesforce recently open-sourced Lightning Web Components which comes with some great tools to simplify custom development. LWC delivers robust user-centric designs providing a blazing-fast, enterprise-grade user interface. Contact AwsQuality to get lightning-compatible custom apps built by harnessing the power of Salesforce lightning web components. Some of LWC's advantages are listed here:
Improved Performance

Lightning web components provide better performance to the end-user because they can operate on the browser without any complicated abstractions.

Easy to Use

The Lightning Web Components can be deployed with just a few clicks when they are developed properly.

Additional benefits

Lightning Web Components comes with an added layer of special Salesforce services besides the core stack. Lightning Data Service,
User Interface API and base Lightning Components are some of these extra benefits.
Every day, our Salesforce development services help businesses to gain more out of Salesforce. Contact us today to get the best Salesforce development services. Consult Now