Telstra tackles sales data goals with Salesforce's Einstein Analytics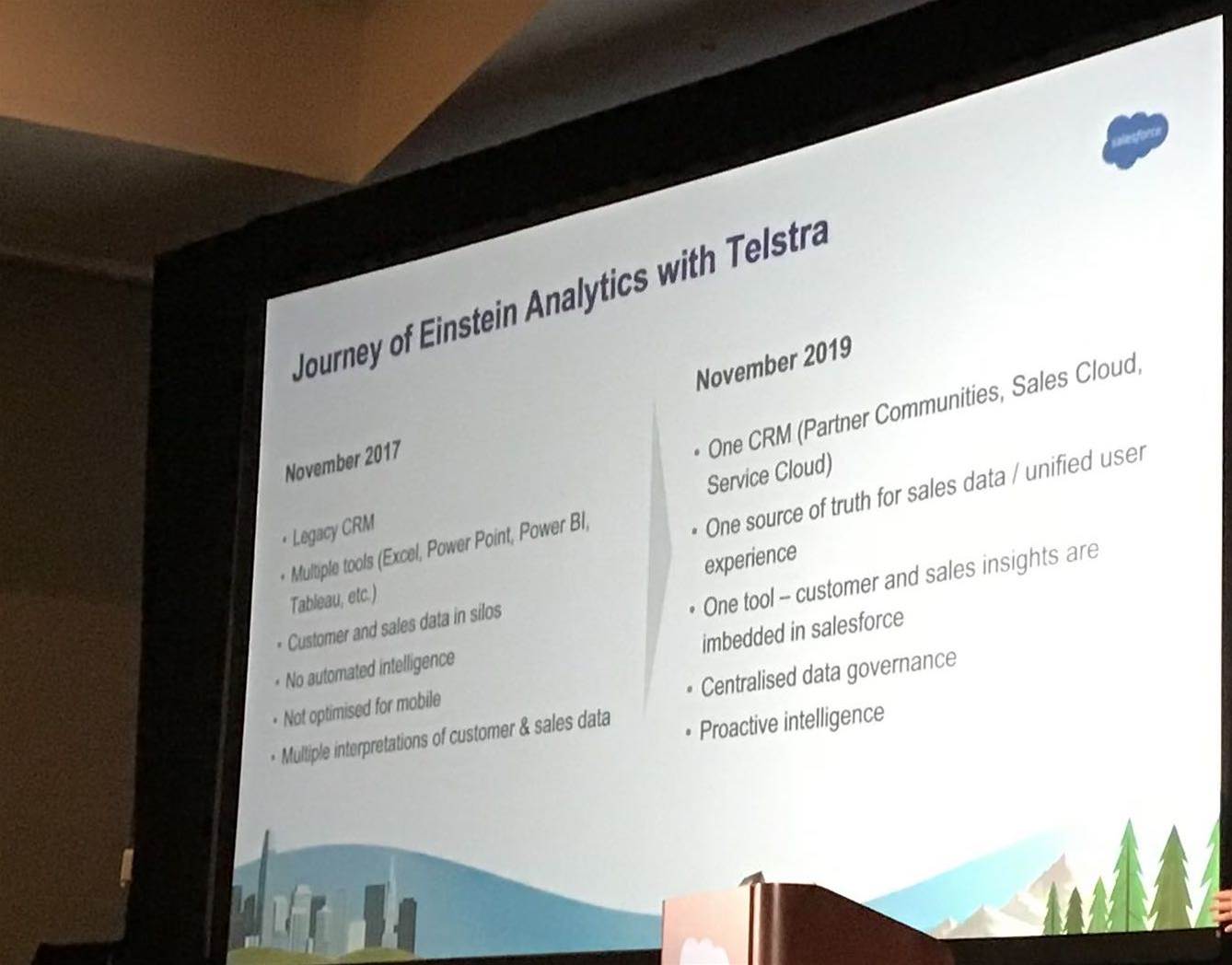 Creates central dashboard for 3500 sales staff.
Telstra is using dashboards powered by Salesforce's Einstein Analytics in the central Salesforce system it uses to run its enterprise business.
B2B Einstein Analytics product owner Svetlana Kuzmenkova told Salesforce's Dreamforce 19 conference that the dashboards bring together data from eight source systems and portals that sales people previously had to individually check and keep track of.
Kuzmenkova said that Salesforce was promoted internally as "the place to go" to manage all enterprise business, but executing on that was complex.
"What we wanted was to get every single piece of data on every single account into the hands of every single salesperson every day," she said.
In January 2018, Telstra licensed Einstein Analytics, a tool within Salesforce's artificial intelligence suite that, among other capabilities, promises to "connect to outside data sources to see all of your data in one place."
"Our first use case was to build a 'customer 360' view," Kuzmenkova said.
"We wanted to bring multiple data sources onto the system and we wanted to embed the customers 360 in Salesforce so our sales users had one interface, one tool to provide a great customer experience."
The customer 360 dashboard went live in June last year, though Kuzmenkova said it was "more probably a 180 [degree view] back then."
"We've been slowly adding building blocks to allow the 360 view and I can say today we're getting really close to getting that full view of the customer," she said.
"Getting that 360 view available to our sales team was a game-changer. Our sales teams absolutely loved it, and NPS [net promoter score] went up by 80 percent."
Kuzmenkova said the dashboard put relevant information – such as NPS, revenue profiles, products and service holdings, customer orders, contracts, partner deals and open cases with the telco's service center – in one place.
"We had all the information at our fingertips to serve our customers better," she said.
"It made our teams more productive. They could log in in the morning into Salesforce, open the 360 view and see exactly what is happening to their customers and proactively engage with them.
"Before Einstein, sometimes it would take us two or three days to pull together a view of what our customers actually bought from us.
"We were extracting data from multiple systems, using lots of Excel spreadsheets. By the time the exercise was finished, the data was already out of date."
Kuzmenkova said Telstra has around 3500 users of Einstein Analytics across two Salesforce orgs – split by domestic and international customers.
"We [also] have around 900 users on our partner communities that are interacting with Einstein dashboards," she said.
"We have our partner managers and partners on the same dashboard looking at the same numbers.
"We've also deployed Einstein in our service organisation."
Telstra Enterprise Einstein developer Kane Lo said the customer 360 dashboards helped sales executives understand what was happening in their territories and areas of responsibility.
They could also drill down to an individual account level to understand what might be causing a particular trend or issue at a higher level.
"Let's pretend I am a sales executive for Telstra Enterprise in the southern states of Australia," Lo said during a demonstration of the customer 360 dashboards.
"I can now click a filter to [see] what's applicable to me. I can then filter to my direct reports and see their performance.
"This really helps people with starting the conversation and diagnosing a problem. There may be some issues at a holistic level, but maybe there are specific problems in certain areas as well."
Sales executives could also use the dashboard to understand the product portfolios and revenue profiles of individual accounts, including "when the revenue will land throughout the year."
Lo said that involving the Telstra Enterprise sales organisation in the design of the dashboards was particularly important to the project's success, as was staying close to users throughout the implementation and continually improving the system.
"Getting a strong foundational data architecture is really important as well," Lo said.
"This is really only going to work if the data is current."
The implementation team spent time understanding the mechanics of the light source systems, such as how often data in them was updated and therefore could be pulled into the Einstein-powered dashboards.
That understanding proved important to combating any temptation internally among subsets of users to return to old ways of doing things.
"[Otherwise] you get sales saying, 'I just changed an opportunity and it's not on my dashboard. It's broken, this sucks, I don't want to use it, I want to use my Excel instead'.
"And then [you need to coax them back]."
Ry Crozier attended Dreamforce 19 in San Francisco as a guest of Salesforce.
Article Resource: This article is originally published here.
Disclaimer: This article is originally published on itnews. AwasQuality does not take any credit and is not responsible for the information shared in the article.
Contact Us
Bio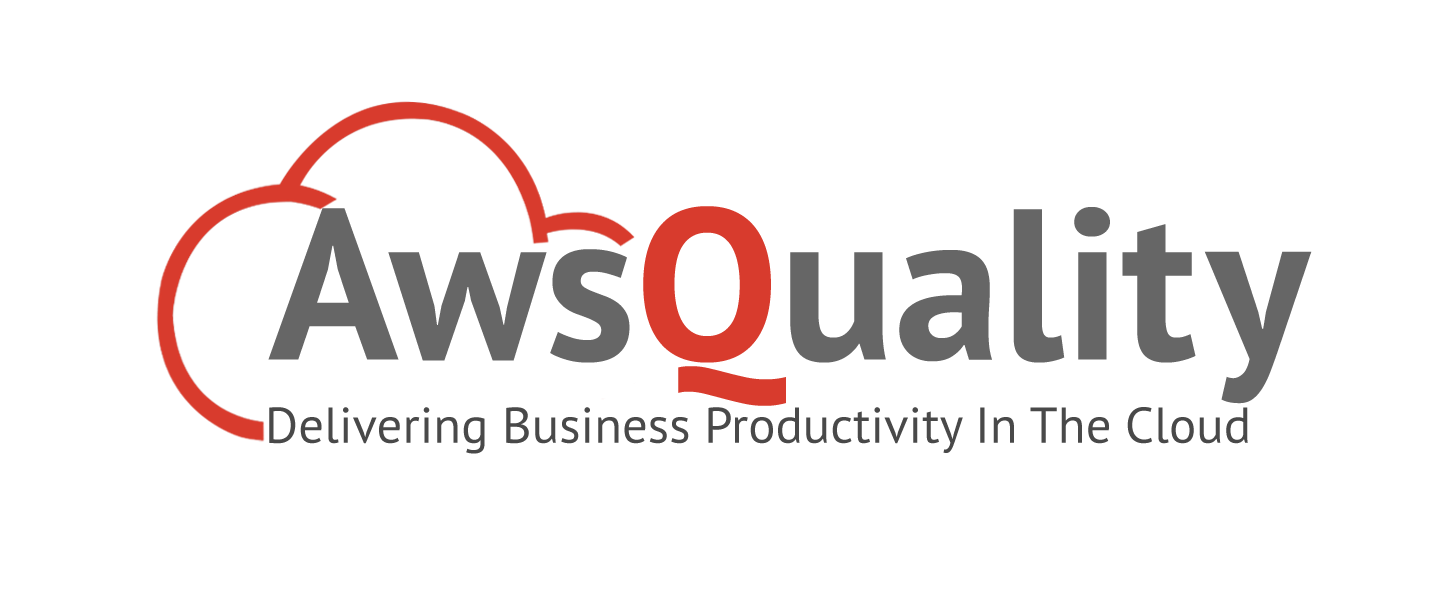 AwsQuality helps businesses gain competitive edge with solutions on Salesforce cloud and mobile technologies with Offices Noida India, Louisiana focused customers are in the UK, US, Asia, South America and Australia.