How can Salesforce and Outlook Integration Optimize Sales Process?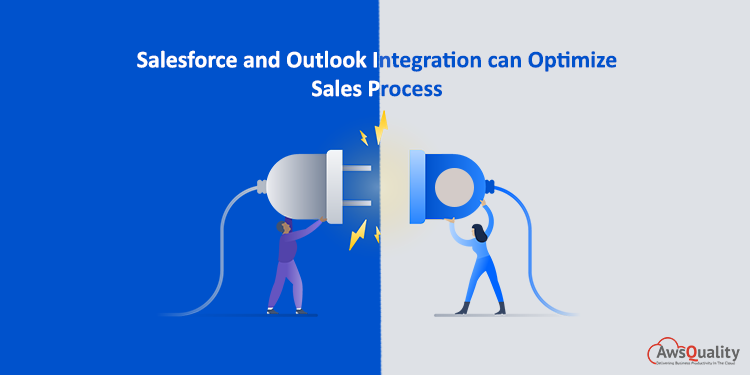 Salesforce is a cloud-based CRM software that acts as a software-as-a-service (SaaS) provider, developed to make organizations function efficiently and profitably by reducing the cost of managing hardware infrastructure. Salesforce offers a wide range of features in all the functional areas of a company like marketing, sales, services and many more.
Based on cloud platforms and applications, the company is best known for its different CRM products like Sales Cloud, Service Cloud, Marketing Cloud, Commerce Cloud, Analytics Cloud, IoT Cloud, and also includes Health Cloud, App Cloud,Force.com, Financial Services Cloud, and Chatter.
Outlook  is a software program by Microsoft primarily based on e-mail sending and receiving which means it enables users to send and receive email on their computer.
Importance of integrating Salesforce with Outlook
To save time for reps in entering data and switching between the two applications.
To help sales teams in tracking important email conversations relevant to Salesforce records.
To eliminate efforts on redundant data entry into two applications.
It helps to access important Outlook email messages and manage all relevant Salesforce records in one place.
To make easy for sales reps to design meaningful email templates for prospects and customers.
Problems faced by reps on using two different platforms like Outlook and Salesforce?
More time engagement in moving and maintaining data in two places. More time spent in this activity will affect productivity.
High possibility for data entry errors since they have to update data in both Outlook and Salesforce.
The occurrence of data errors will affect data quality which will ruin the company's reputation.
Also check: How Tableau integration with Salesforce benefit Organization
How Integrating with Outlook Helps Your Sales Reps?
Relate relevant Salesforce content in Outlook: Reps add an email that's the most relevant to the sales cycle so that colleagues in Salesforce know what's going on, hence increase Salesforce adoption among your sales team.
Access features with each other: Salesforce records are easily created such as leads, opportunities, accounts, contacts, and even records based on custom objects and you can relate email messages and nonrecurring calendar events to multiple Salesforce contacts and any other Salesforce record that accepts tasks or email messages.
Contacts and Events Sync: Using Lightning Sync in the background, your reps don't duplicate data entry for contacts and events in both Outlook and Salesforce.
Here are two types of versions available for effective optimization of business…
Salesforce for Outlook: Salesforce for Outlook is an integration application that you install, syncs contacts, events, and tasks between Outlook and Salesforce. For syncing these items, you can perform activities like adding Outlook emails, attachments, events, and tasks to multiple Salesforce contacts, and view Salesforce records related to the contacts and leads all right away in Outlook.
Limitations of Salesforce for Outlook: Salesforce for Outlook is an installed software and has been a fine solution for helping your reps maintain data in Outlook and Salesforce. But it requires maintenance and frequent version updates. To fulfill update requirements, admins of your company should coordinate software installations with your sales reps, so that everyone's running the latest version and everyone knows that the same version of Salesforce for Outlook.
Hence there is a need to move further to adopt the Salesforce Integration process with Outlook and Lightning Sync…
Outlook Integration and Lightning Sync: Outlook integration and Lightning Sync are ready to go wherever your reps go. That means the integration is available to your reps on locally installed versions of Outlook and Outlook on the web. Sales reps should always have access to the latest and greatest features.
How does integration benefits admins?
The administrative process gets simple: Admins don't have to maintain updated versions. Whenever we add new features, those updates happen on the Salesforce side of the business, along with the other Salesforce updates that we receive three times a year.
Easy Deployment Process: Since the deployment process is easy that allows reps to deploy the Outlook integration add-ins themselves or you can deploy the add-ins for them, which is a great way to score even more points with them.
Efficient Sync Process: Sales reps can decide whether everything syncs or they have the option to choose the items that sync.
Here we list down the process to set up the Outlook Integration and Lightning Sync…
Click on Setup.
To select Outlook Integration and Sync, enter Outlook in the quick find box.
Turn on the Outlook integration.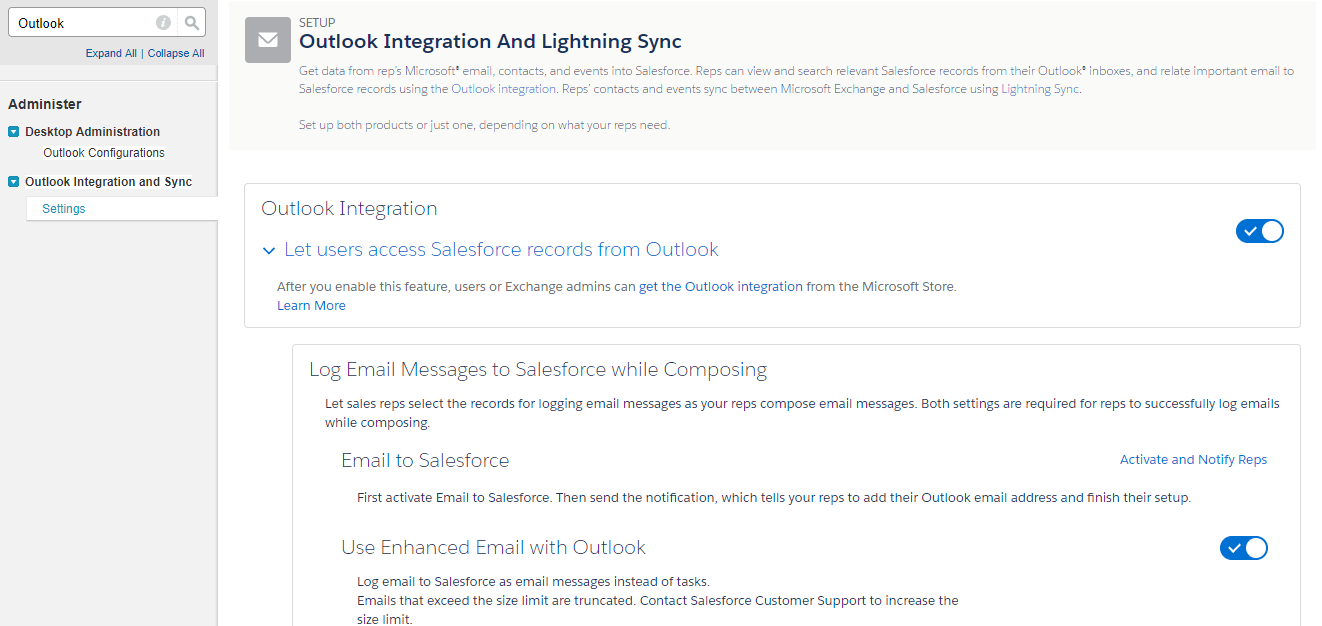 Make turn on Use Enable Enhanced Email with Outlook and Email to Salesforce features.
Give your sales reps a clear instruction to set up Salesforce in Outlook.
Click Add-ins and download Salesforce from the Microsoft Office Store in Outlook.
Open the File menu, and select Manage Add-ins in Outlook.
Set the Salesforce app to Turned On.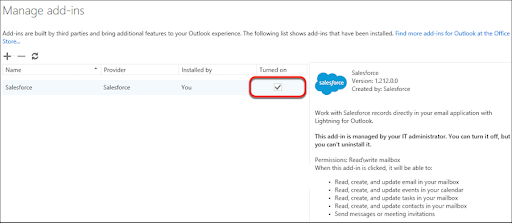 Click the Salesforce icon to open the app while reading or composing an email.
For login use your Salesforce username and password.
Provide confirmation when prompted to connect your email account to Salesforce.
Set up Lightning Sync
Enter Sync in the Quick Find box from Setup, and select Outlook Integration and Sync.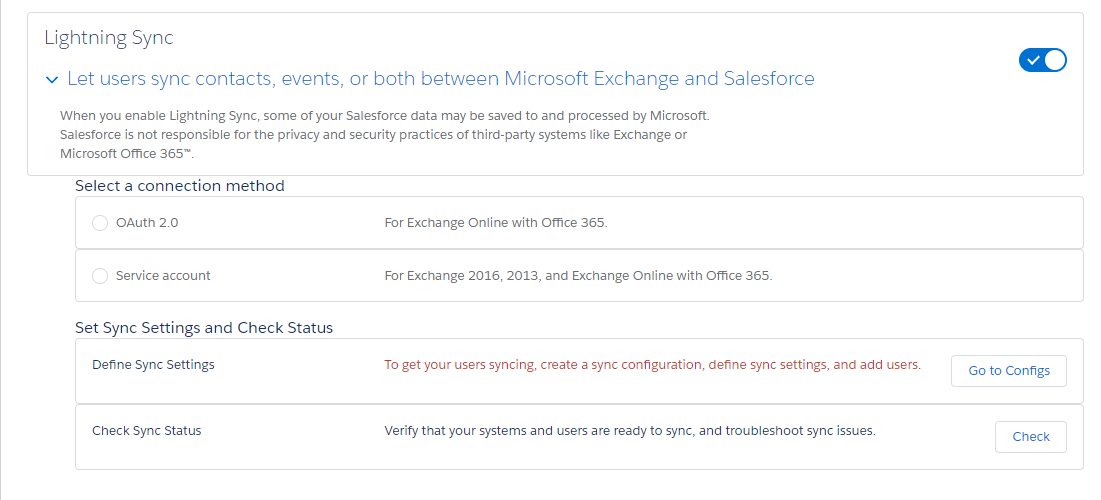 Turn on the button Lightning Sync.
That's all the integration configuration of Salesforce and Outlook.
If you also want to integrate 3rd party products with Salesforce, you are at the right place. Request a quote now!
Conclusion
Organizations should adopt Salesforce Integration with Outlook to optimize their whole business process because reps can access important Outlook email messages and relevant Salesforce records in one place that makes easy to craft targeted, meaningful email communications to prospects and customers and generate meaningful leads, hence increase ROI (Return on Investment ).
Do you have any questions? Ask in the comments.
Contact Us
Bio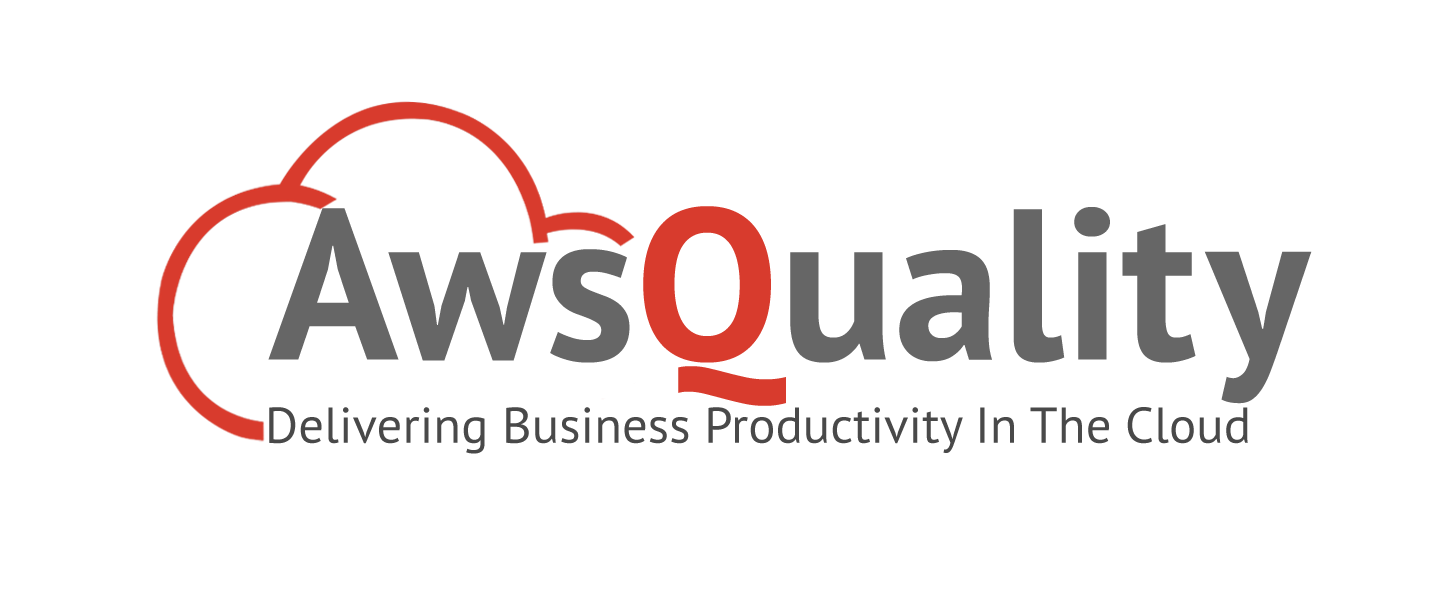 AwsQuality helps businesses gain competitive edge with solutions on Salesforce cloud and mobile technologies with Offices Noida India, Louisiana focused customers are in the UK, US, Asia, South America and Australia.