How does Cloud Computing change the traditional way in the current scenario?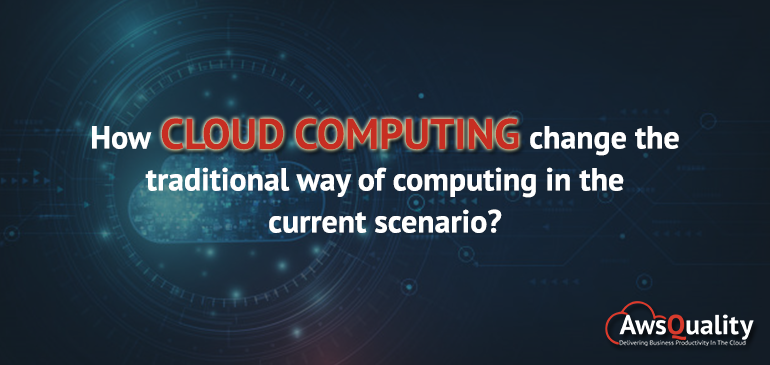 Introduction
The nature and tendency of humans is inquisitive, previously most people were concerned about how to obtain computers in their offices, schools and homes. The main reason behind that was in order to get close to the world and communicate and exchange data via these devices. But today people are concerned about the Internet and its speed for effective and efficient communication,therefore Cloud Computing comes into demand. 
What is Cloud Computing?
Cloud computing refers to the provision of computational resources on demand via a computer network based on internet protocol. Submission of  a task by users or clients such as word processing, to the service provider, such as Google, without actually possessing the required software or hardware. The consumer's computer may contain very little software or data, serving as little more than a display terminal connected to the Internet.
Cloud Computing means accessing the data and services over the Internet, usually in a completely seamless way.
When you prepare documents over the internet it is a newer example of cloud computing like Google Documents where you can create a document, spreadsheet, presentation, or whatever you like using Web-based software. You do not require to maintain or type words into a program like Microsoft Word that is running on your computer.
Characteristics of Cloud Computing
The essential characteristics of Cloud Computing includes…
On-demand self-service that enables users to consume features of computing like applications, server time, and network storage. 

Collections of resources that allows users in combining computing resources for computing (e.g., hardware, software, processing, network bandwidth) to serve multiple consumers such resources being dynamically assigned. 

Rapid elasticity and scalability that allow functionalities and resources to be rapidly and automatically provisioned and scaled.

Optimize resource allocation to determine usage for billing purposes. 

Reducing the cost of additional resource provisioning.
History of Cloud Computing
The history of Cloud Computing started in the 1960s and in recent years the technology has served to shake-up both the enterprise IT and supplier landscape.
Before Cloud Computing, there was Client/Server computing which is basically a centralized storage in which all the software applications, all the data and all the controls are resided on the server side.
If a single user wants to access specific data or run a program, he/she needs to connect to the server and then gain appropriate access, and then he/she can do his/her business.
After all these efforts, distributed computing came into effect, where all the computers are networked together and share their resources with each other.
On the basis of above computing, there emerged cloud computing concepts that later were implemented.
Around 1961, John MacCharty suggested in a speech at MIT that computing can be sold like a utility, just like water or electricity.

In 1999, Salesforce.com started delivering applications to users using a simple website. The applications were adopted and used over the Internet, and this way the dream of computing sold as utility were true.

In 2002, Amazon started Amazon Web Services, which started providing services like storage, computation and even human intelligence. 

In 2009, cloud computing enterprise applications provided by Google Apps started.

 In 2009, Windows Azure launched by Microsoft, and companies like Oracle and HP have all joined hand with them.
Types of Cloud Computing
There are mainly three different kinds of cloud computing, where different services are being provided for you.
Infrastructure as a Service (IaaS ) :

It is a

cloud-based services, pay-as-you-go for services such as storage, networking, and virtualization. It means

buying access to raw computing hardware over the internet, such as servers or storage. 

Software as a Service (SaaS)

means using a complete application that is running on another's system. Email access and Google Doc are the best-known examples. 

Platform as a Service (PaaS)

means when you develop applications using Web-based tools so that they run on systems software and hardware provided by another company. For example, Force.com from salesforce.com.
Advantages of Cloud Computing
The advantages of Cloud Computing are obvious and compelling. Why to buy and maintain a complex computer system? Why waste time running anti-virus software, upgrading word-processors, or worrying about hard-drive crashes? Cloud computing allows you to buy that service which will cut the costs of establishing computers and peripherals. You have options to add more to the services and also take them away any time as per your business needs. 
Even big and small organizations around the world are adopting Cloud Computing Technology, and this trend seems to be only increasing day by day. Here are some of the advantages listed below…
Growth of Cloud Computing : High speed Internet and large number of service providers with huge data centers around the world has brought about a significant growth in this business model. According to a survey, cloud computing's growth potential can be gauged by the fact that by 2020 it would be worth a huge 157 billion pound industry.
Positivity of IT Executives towards Cloud Computing Technology : For IT industries (organizations) despite its challenges and inhibitors, cloud Computing is viewed as a positive development for IT organizations. Recent surveys have indicated that globally, four out of five respondents feel that the cloud will have a positive impact on their organizations. Today, Cloud Computing occupies a significant place in the IT market and is growing rapidly.
IT Roles will Change : This just about serves as a wake-up call for IT departments in all organizations to align more to the needs of the organization's business. What becomes clear is that the IT and Business will work together to shape ITs consumption together for the future. IT will probably act as a broker, intermediary and orchestrator of cloud services for the business across internal and external clouds.
Add on suitability features to organizations : Cloud Computing today plays an important role in all aspects of the IT industries. The features of Cloud Computing such as rapid provisioning, scalability, business continuity, on demand self-service, resource pooling along with security, risk management, compliance, and identity and access management in the Cloud Computing.
Creations of Additional Jobs : The impact of cloud computing on IT professionals can be imagined by the lack of such specific expertise and skills available today in Cloud Computing Technology. There is a growing need for IT professionals who can architect, develop/deploy, migrate, support and integrate cloud solutions. Surveys predict that there would be 7 million additional jobs available in the cloud computing market.
Skills Development related to Cloud Computing : On the job front, IT professionals would need to develop additional skills and expertise to handle the new aspects of the cloud. Also, new technologies such as cloud computing, cyber security, Big Data and Analytics would only propel new jobs in the coming years. Nevertheless, developing cloud skills will become a necessity and those who plan early to adapt to this new environment will have the option and luxury to select from a range of promising jobs.
Case Study
Here some of the case studies are listed below for the reference of real time examples…
Education Industry
Educational institutions have been quick to realize the advantages of Cloud Computing technology and have been eagerly adopting it for several reasons, including: 
Student's capabilities to access data from anywhere, anytime, and to enroll in online classes and to participate in group activities.

Class enrolments and assignment tracking tasks made simple, thus reducing expenses significantly.

Ability of  the institutional body to store data significantly which will help in reducing cost to infrastructure.

 Easy access to educational material and cloud knowledge-sharing communities. This can be easily achievable with the access of internet connection.
Contribution towards developing nations
Cloud Computing technology is full of features that will provide benefits to developing countries since they no longer have the burden of investing in costly infrastructures and can tap into data and applications that are readily available in the cloud (like salesforce.com). 
Healthcare Industry
Cloud Computing technology plays an important role in the healthcare industry that is gaining pace. For example, managing patient data and sharing it among different sources such as medical professionals and also have capabilities for patients for checking their own status and treatment follow-ups. It reduces operational costs in maintaining a huge database. Accessing this data even through devices such as mobile phones and tabs are more easy and can be accessed anytime and anywhere. 
Conclusion
As we've seen, Cloud Computing has the potential to change the world. For clients and companies that open up many possibilities in just the span of a year are also adopting cloud computing technology to optimize their business process in order to gain more productivity or ROI.
Contact Us
Bio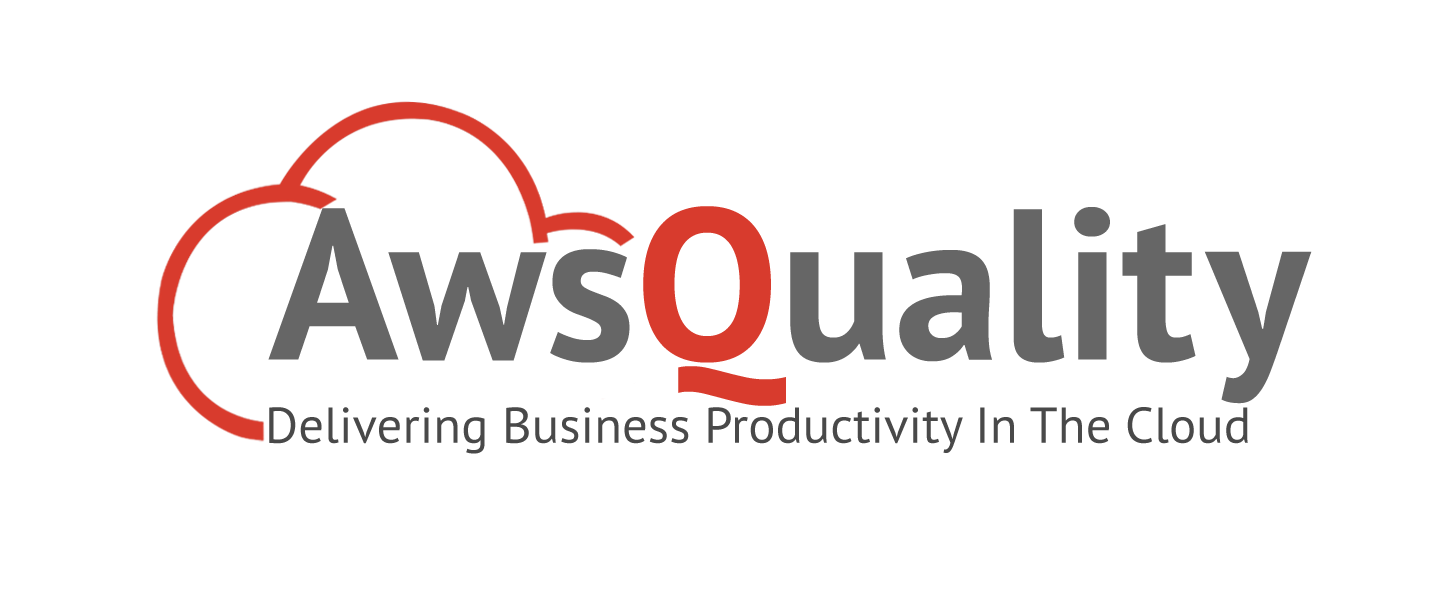 AwsQuality helps businesses gain competitive edge with solutions on Salesforce cloud and mobile technologies with Offices Noida India, Louisiana focused customers are in the UK, US, Asia, South America and Australia.